Arsene Wenger praises 'relentless' Arsenal after Newcastle win
Last updated on .From the section Football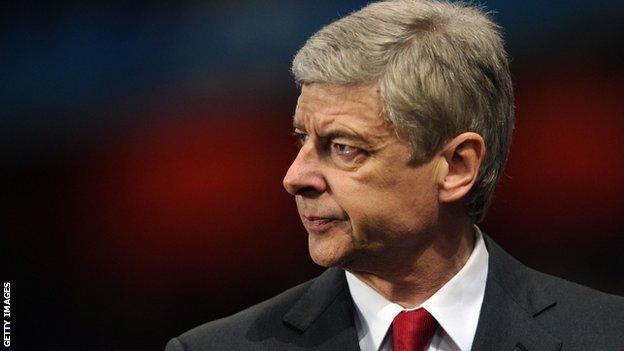 Arsene Wenger praised the "relentless effort" of his side as they secured a stoppage-time win over Newcastle.
Wenger said: "What beat them was our relentless effort to win.
"I never thought we wouldn't win. I said to my assistant that we needed one more attack and we would score."
Arsenal were 10 points behind rivals Tottenham in the race for third place before their meeting last month, but the Gunners are now only a point behind after extending their run of victories.
Wenger's side conceded first at Emirates Stadium on Monday for the fourth consecutive match when Hatem Ben Arfa drilled in at the near post, but Robin van Persie replied inside a minute with his 44th goal in his last 45 Premier League appearances, before Vermaelen grabbed the late winner.
"This was a game of absolute commitment on both sides," Wenger said.
"Newcastle are a good team and it needed something special to beat them.
"Newcastle tried to slow us down but we get that many times. We got five minutes extra time and that allowed us to win the game.
"We won in the last minute against Sunderland, Liverpool and now Newcastle. That shows we have absolute commitment.
"They are refusing to lose. That's fantastic. The team has to be credited for an excellent performance again."
Walcott - who was impressive throughout - believes his side can catch Tottenham to take third spot.
"Tottenham have got to be watching over their shoulders now," Walcott said.
"With the squad of players we've got - and we've got a lot of players coming back to fitness now - we believe that we can go much further.
"It's been an up and down season, but it's the way you finish, and that's the most important thing."
Newcastle boss Alan Pardew felt his side deserved a point but called for his players to not let the manner of defeat derail their own push for European football.
The Magpies are five points behind fifth-placed Chelsea with 10 games left of the season.
"It's tough to take," Pardew said.
"We came up against a side that are bang in form and whose confidence is high. We restricted them for long periods of the game, and they make it very difficult.
"It's really sickening for us. Great teams score late goals. Overall tonight I though we deserved a point.
"We've got a tough game against Norwich on Saturday and we need to win, so we need to make sure we patch ourselves up."