Rangers bidder Paul Murray may fail Scottish FA 'fitness test'
Last updated on .From the section Football
Paul Murray has made public some of the details of his consortium's proposed takeover of Rangers, but he may be unable to join the club's new board.
Businessman Douglas Park and London-based pair Scott Murdoch, a property expert, and fund manager John Bennett are some of Murray's Blue Knights.
But Murray's former directorship at Ibrox prior to administration may fall foul of "fit and proper person" rules.
The Scottish Football Association board could block the Scot's involvement.
Although Murray was ousted from the board by Craig Whyte shortly after he bought the club from Sir David Murray, the club's insolvency nine months later raises doubts over him playing an official role in any Scottish club.
The SFA's rule 10.2(j) in their Articles of Association appear to exclude anyone who has been a "director of a club in membership of any national association within the five-year period preceding such club having undergone an insolvency event".
However, it is understood the SFA's legal team are unsure whether the specific rule would be enforceable given Murray had already left. Any individual also has the right of appeal.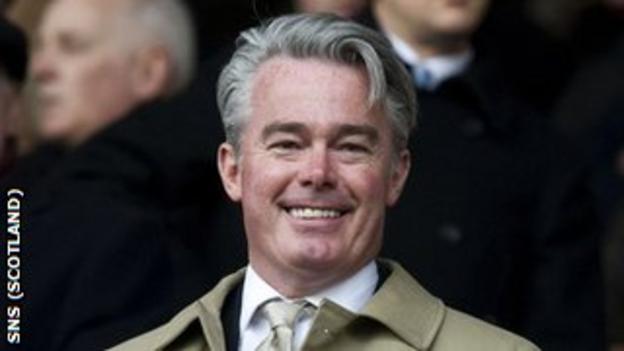 Although the clause is clear, the rule states the board "reserves its discretion" as to whether a person is fit and proper after "due consideration of all relevant facts".
And even if he were deemed unfit, Murray could still play an active role in takeover talks and any new ownership structure, although his ongoing influence might have to be unofficial if he succeeds.
Administrators Duff & Phelps want indicative bids showing "absolute proof of funding" to be registered with them by Friday. The firm says there are potential bidders from the Far East and America.
Murray has been the figurehead of a consortium which he revealed will include Ticketus, whose cash ultimately funded Craig Whyte's takeover.
Ticketus seem confident that their contract to earn money from future season ticket sales, in exchange for £24.4m, is robust.
Murray believes it is in Rangers' best interests to work with Ticketus rather than engage in a costly legal battle with them over their contract's validity.
His preference is for that company to back the Blue Knights' cash offer and provide working capital until they complete a fans' share issue.
The ex-director told BBC Scotland around 10 individuals have expressed keen interest in investing with him, but the Rangers non-executive director Dave King will not be one of those, until his issues with the South African tax authorities have been resolved.
Lord William Nimmo Smith's inquiry on behalf of the SFA last week deemed Rangers chairman Whyte "not fit and proper" to run a club and Rangers may face punishment for this for bringing the game into disrepute.
It was under Whyte's chairmanship that the club failed to pay £9m in VAT and PAYE and it was this that brought about administration.
BBC Scotland since learned that the figure is closer to £15m.
Should King, who was on the Ibrox board when they went into administration, sort out his South African tax dispute, he too might be unable to continue in his role under the same SFA rule.
Some comfort for Murray is that, when Motherwell went into administration in 2002, the late Fir Park chairman Bill Dickie continued in his role for six years after the event.
The SFA's definition of a club official includes "all office-bearers, secretary, directors or members of the board of management or committee".