Cambridge United 'likely' to share new stadium
Last updated on .From the section Football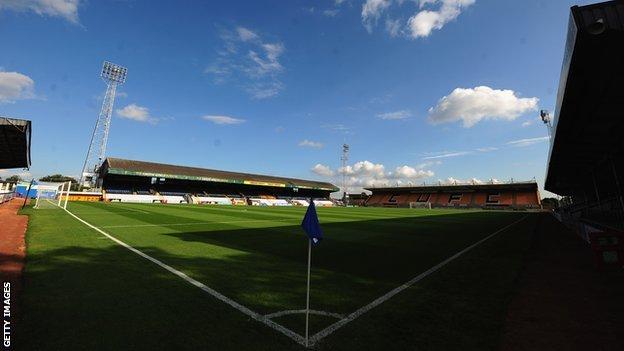 Cambridge United's landlords believe sharing their proposed new community stadium with Cambridge City or Cambridge RUFC is "highly likely".
Grosvenor Estates have earmarked a site at Trumpington Meadows for a sports village development.
Project consultant Chris White told a public meeting: "We're working towards a model of two occupying teams.
"Both Cambridge Rugby Club and Cambridge City have expressed an interest in the project."
Grosvenor became United's landlords in 2010 after paying property developer Bideawhile £3.5m for the Abbey Stadium site, which has been the club's home for 80 years.
They are committed to securing the a new 8,000-capacity stadium so the Abbey can be redeveloped.
Cambridge City sold their Milton Road home to developers in 2003, but currently have a lease which runs until the end next season.
Despite experiencing financial difficulties of late, Cambridge RUFC own their Grantchester Road ground.
Anglia Ruskin University, sports science company CORE Cambridge and the Cambridgeshire FA are other organisations that are interested in making use of facilities at the new site.
Grosvenor are also in discussions with the British Judo Association over relocating their national headquarters from Loughborough.
"This is a recent development, but we have been in dialogue with the British Judo Association and they are keen to be involved," White said.
A design concept is now in place for the entire development, which will include outdoor pitches, housing and a country park.
With part of the site falling within greenbelt land, a reclassification will be required in order for planning permission to be granted.
Grosvenor hope to submit an application later in 2012, with the start of the 2017 season set as the anticipated completion date.
The Estadio Nuevo Lasesarre in Barakaldo, Spain is one stadium from which design inspiration is being drawn.
"The stadium has to look fantastic as it's at a gateway to city. I have young children and I want this to be a sports facility that will enthuse young people," White said.