Shaun Barker's family divided for Derby-Forest tussle
Last updated on .From the section Football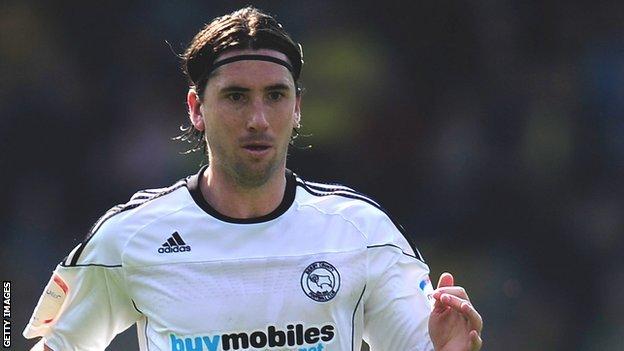 Derby County captain Shaun Barker says his family's footballing loyalties will be tested to the limit when his side and Nottingham Forest meet on Tuesday.
The Nottingham-born defender grew up as a Forest fan in a Reds family.
But although most of his relations now support their own flesh and blood in the A52 derby, one person remains fiercely loyal to his Forest roots.
"My uncle won't come; he's a die-hard Forest fan so won't sit with the Derby lot," Barker told BBC Radio Derby.
"But the rest of my family will come. When the Forest game comes up I have to find 20 tickets from somewhere."
Barker, 29, missed the first, incident-packed encounter between the sides at the City Ground in September because of a knee injury.
But frustrating as it was to miss the match, he was at least in a great position to see the Rams recover from going a goal and a man down inside the first minute to record a famous 2-1 win.
"I feared the worst after 30 seconds when Frankie [Fielding] got dismissed," he said.
"To put on a performance after going 1-0 down with only 10 men after a minute at the City Ground was an outstanding effort. We played fantastic. Theo Robinson was out of this world and everyone played their part.
"That was as good a result and performance as we have had this season. It was a special occasion."
Barker knows another victory would mean everything to the fans after a disappointing run which has seen the Rams slip to 15th in the Championship table. They are 11 points off the play-off places despite a promising start to the season.
But much of that will be forgiven if they can beat Forest for a second time this term.
"This game means everything to me personally, being raised in Nottingham with all my friends Forest fans and I was brought up watching them," Barker said.
"Even when I was playing for Blackpool and Rotherham this was the one I looked forward to all season. It adds a little bit of extra pressure and excitement. I cannot wait.
"We know how much it means to the club and the fans. We don't have to be told. It's a massive game and a great chance to do the double on a side who have probably had the better of us in the last couple of years
"It's the biggest derby I have ever played in. As soon as you go to a club it doesn't matter if you are from there or not, you get the idea of what it means to the club and fans in the build up to the game and get sucked into it. Every lad in the squad will be desperate to play."