Meeting on Stevanovic future delayed yet again
Last updated on .From the section Football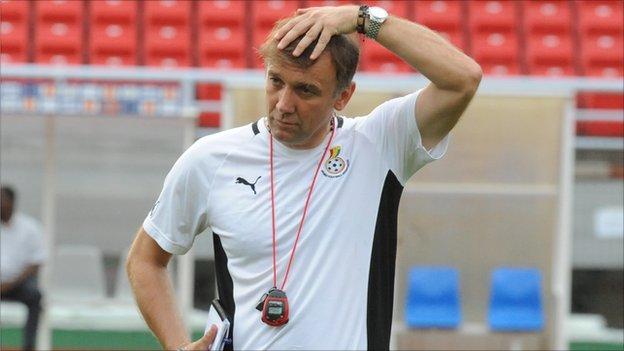 The Ghana Football Association (GFA) says it will meet with coach Goran Stevanovic on Friday, after the Serb missed a meeting on Tuesday.
The under-fire coach was supposed to travel to Ghana on Monday but failed to do so after some passport problems.
"In that regard, he has reported to the police to rectify the problem and this will be done by Wednesday," a GFA statement read.
Stevanovic, 45, is now expected to meet the five-member committee on Friday.
This is on the proviso that he can travel out to Ghana the day before.
When the GFA does meet Stevanovic, it will then make a "final decision" on his future as coach.
The former Partizan Belgrade boss has come under intense pressure since his side failed to win this year's Africa Cup of Nations.
Heavily fancied before the tournament, the Black Stars Ghana lost 1-0 to eventual champions Zambia in the Nations Cup semi-final - before being beaten by Mali in the third-place play-off match.
The 45-year-old's current deal expires in January 2013, the same month as next year's Nations Cup will be held.