Rangers fans' fund will not help Craig Whyte - Sandy Jardine
Last updated on .From the section Football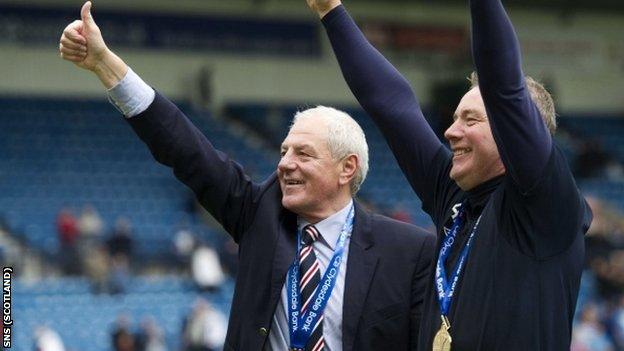 Rangers fans have been assured that a fans' fighting fund endorsed by Ally McCoist and Walter Smith will not hand money to owner Craig Whyte.
The Rangers Fans Fighting Fund has been launched with the present and former manager helping control its funds.
Former Rangers defender Sandy Jardine said: "I can assure anybody that this money will not be going to Craig Whyte.
"This money is controlled by a committee and, if we don't think it is right to go into the club, it won't."
Whyte put the club into administration on 14 February and a Scottish Football Association inquiry has since ruled that he is not a fit and proper person to own a football club.
And Jardine, who will control the bank account, along with Smith, supporters liaison manager Jim Hannah and Rangers Supporters Assembly president Andy Kerr, admitted that the businessman had let the club down.
"There is a sense of embarrassment," he said. "Basically, you have to be honest and say that Craig Whyte came in and mismanaged and embarrassed the club.
"Anybody who comes in to buy our club must be open, transparent and honest and take the supporters with them or they will be flogging a dead horse."
Jardine explained that the fund had been launched in response to fan requests and would help the Scottish champions operate until such time as a new owner was in place.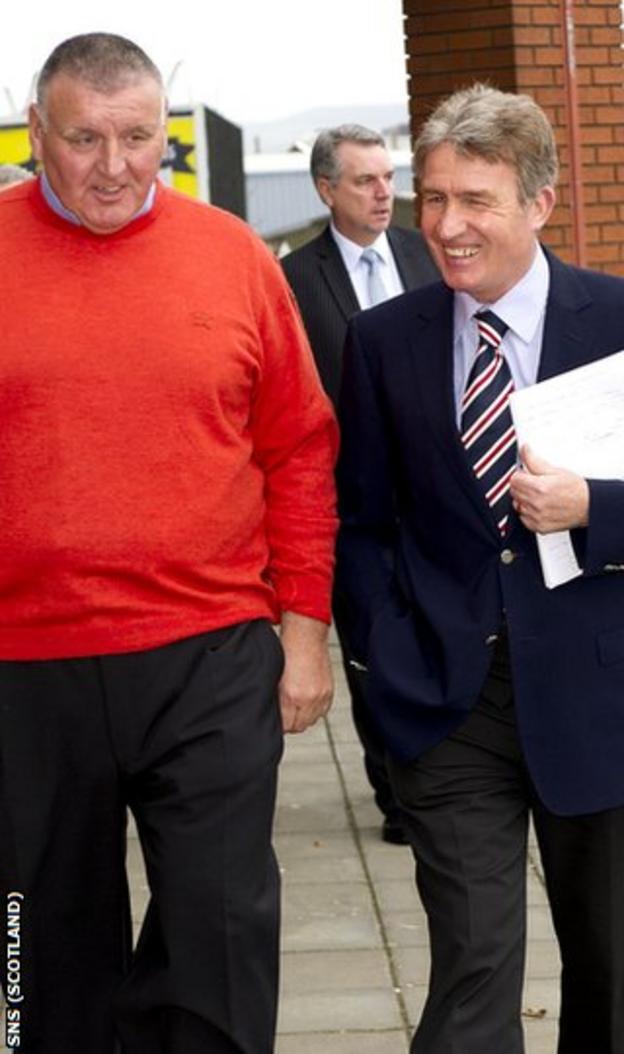 "The club has been inundated with requests from supporters asking where they can contribute to help," he said.
"We will meet with the administrators on a weekly basis. They will put forward a case that they need money to help contribute to certain things.
"If we agree with that, and only if we agree with that, then we will drip feed money into the club.
"And what we plan to do is help the day-to-day running of the club between now and the end of the season and perhaps beyond."
Jardine said there was renewed optimism around the club after the playing staff agreed to wage cuts of up to 75% that allowed the club to avoid major redundancies.
The administrator has revealed that it has been in talks with a number of parties interested in buying the club and Jardine envisaged that "Rangers Football Club will be debt free" at the end of the process.
Jardine said that Rangers supporters' clubs from all over Scotland unanimously backed the idea of launching the fund when they met at Ibrox on Saturday and McCoist enthused about their response.
"Our fans have been fantastic," the manager told the club website.
"They are showing their true colours and have not walked away during these times of need."
Rangers' two home games, against Kilmarnock and Hearts, since they entered administration were sold out and McCoist hopes the latest initiative is well received.
"I ask them to keep backing us and keep filling Ibrox for matches as their support will make a difference," he said.
They will also be asked to come out in force to attend a friendly against Hamburg and legends' game against AC Milan.
Smith, who led the club to three successive Premier League titles before stepping aside for assistant McCoist at the end of last season, added: "It has been an extremely difficult time for everyone associated with Rangers.
"But the supporters have shown unbelievable commitment to our club throughout the administration process and deserve great credit."