Off The Bawl - 17 March
Last updated on .From the section Football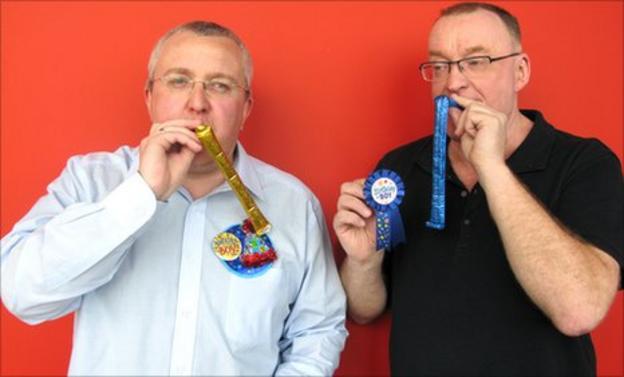 Greeeeeetings!!! Our star guests in a packed show on Saturday were the actor and celebrity St Johnstone fan - the only one - Colin McCredie, alongside Pat and Greg Kane, aka Hue and Cry.
Colin's starring in a new Cbeebies show called Woolly and Tig, which, according to Barney in Neilston: "Sounds like a version of Touch The Dug's Erse as all the girls at my old school wore knitted knickers."
Meanwhile, Leo Friel said: "I met Pat Kane a few years ago at a party in the west end of Glasgow and he was spouting on about existentialism. I don't know if it got him his 'Nat King', but I think that's definitely where he was going with it." (Pat agreed)
However, Big Eck fae Carmunnock said: "Pat has said 'Oh my God!' four times on the show already. Gonnae bin him and get a guest with a richer vocabulary and a better grasp of the Queen's English?"
Throughout the show, Pat and Stuart enjoyed the sort of verbal joust that made the wee guy from The Good Old Days sound like Charlie Nicholas, but they were both outdone by regular listener Raj Gadjhi, who said: "You chaps are getting rather intoxicated with the exuberance of your own verbosity, though I've detected one or two terminological inexactitudes being perpetrated."
Phew! Time for a breather. So here's another selection of the most petty and ill-informed texts and emails on radio...
WHAT DOES EDINBURGH MEAN TO YOU?
Big Rab said: "To me, Edinburgh means English accents."
John in Fife said: "Only one thought springs to mind when I think of Edinburgh - all the very reasonably priced pubs!"
Dougie Campbell in Nova Scotia said: "My favourite Edinburgh story concerns the old Binns department store (now House of Fraser) and the woman who went into Woolworths looking for a 46EEE bra. The shop assistant shook her head and said: "I'm sorry, madam, we don't have one that big. Have you tried Binns?" To which the woman replied: "Yes, but they rattle around too much."
ICE-CREAM VAN MEMORIES
Jane Whiting in East Kilbride said: "I have fond memories of taking a bag of ginger bottles to the van and getting a 10p mix-up."
Angela said: "It was always a good laugh asking the 'icy' what kind of crisps he had. After he rattled off about two dozen flavours, I'd just ask for a Mars Bar."
Stuart in Lincoln said: "When growing up in Dumfries, we lived next door to the people who ran the local ice-cream van. The wife was a fiery Italian who was forever screaming at her husband. She once threw a shoe at him halfway through a shift and it went straight through the window of the van and hit my dad on the head. I can't look an ice-cream van these days without laughing about that."
Alan Harper in Kilcreggan said: "My favourite ice-cream van memory is the classic sketch in Chewin' The Fat where a young boy asks to see the lassie's hootananny. She duly obliges and the wee guy is still there hours later, rooted to the spot, open-mouthed and with melted ice-cream running down his arm. Classic!"
Gordon in Largs said: "My Uncle Derek used to tell us that, when the van was playing its wee tune, it meant he had run out of ice-cream."
Chris said: "As a young scientist, Maggie Thatcher was involved in producing the formula for Mr Whippy ice-cream. Full of air even then!"
TEAM OF THE WEEK
The Kids' TV XI
(aka The Peletubbies)
(aka The Power Rangers)
Manager: Paul le Guen Michael's Cavalcade
Assistant: Jimmy Nicholodeon
Pundit: Chick Young (always dropping Clangers)
1/ Fingerbob Wilson
2/ Tam Scobbie Doo
3/ Pugh, Pugh, Charlie Mulgrew
4/ Tommy Singing Ringing Tree (capt)
5/ Jackie Chorlton and the Wheelies
6/ Inch High Private Eyal Berkovic
7/ Jamie Smurfy
8/ Bagpuskas
9/ Crystal Tipps and Alistair McCoist
10/ Zebedee Zidane
11/ Superted McMinn
Subs: Nigel de Jong Kong Phooey, Looby Lou Macari, Noddy Styles, Postman Pat Bonner
A SONG TO END THE SHOW?
As a wee plug for their new album called Hot Wire (ah yes, you can take the boys out of Coatbridge...), we invited Hue and Cry to sing us out - but asked the Off The Ball listeners to pick the song.
Lots of nominations for Ordinary Angel, Labour of Love and some of Hue and Cry's other Top 75 hits.
Itsy Bitsy Teeny Weeny Yellow Polka Dot Bikini was suggested by Ross in East Kilbride (what would that have done for Pat Kane's street cred?) and Andrew Todd said: "Could you please get the guys to perform John Cage's classic 4 minutes and 33 seconds of silence?"
However, Pat and Greg played us out with a brilliant version of the song that was requested by most listeners - Mother Glasgow.
Incidentally, folks, Pat and Greg had a pop at Tam's pal, Engelbert Humperdinck, earlier in the show on account of the fact the veteran crooner has never written a song in his life.
Mother Glasgow was written by Michael Marra...
To join in the fun on this Saturday's show, call 0500 929500, text 80295 or email offtheball@bbc.co.uk
Listen to the most recent Off the Ball programmes.
Download the latest Off the Ball podcast.