Portsmouth administrator Trevor Birch says Balram Chainrai not stumbling block
Last updated on .From the section Football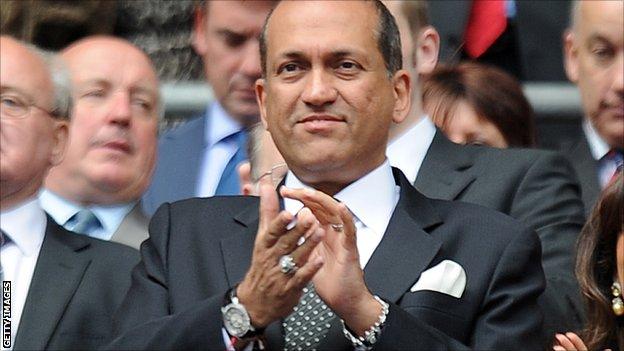 Portsmouth's administrator Trevor Birch says major creditor Balram Chainrai is not a stumbling block in his pursuit to sell the financially-stricken club.
Chainrai is still owed £17m by Pompey, and holds Fratton Park as security, but Birch says that is not an issue.
And he revealed if the club are liquidated, Chainrai would not take possession of the ground as a result.
"The £17m he has secured on the club is not a stumbling block in finding a new buyer," Birch told BBC Radio Solent.
Chainrai first became involved with Portsmouth in 2010, lending them £17m and taking Fratton Park as security.
The club were eventually sold to Convers Sports Initiatives - who agreed a deal to buy the club in the summer of 2011. Their main financial backer was Russian Vladimir Antonov.
But in late 2011 Antonov's bank was placed into administration in Lithuania. He was accused of asset-stripping, arrested and remains on bail pending extradition hearings.
Then, CSI - Antonov's company and Pompey's ultimate owner - was placed into administration.
It later emerged that, although CSI had bought the club from Chainrai, the Hong Kong businessman still had security on the ground, and was owed £17m through his company - Portpin - which is registered in the British Virgin Islands.
Anybody wanting to buy the club would have to address Chainrai's debt and deal with another former owner Alexandre Gaydamak - who owns the land around the ground.
But his security could be devalued by the courts if Birch asks for a ruling on its true worth.
Chainrai has since said he will not let the club go under and that he will write off some of the £17m he is owed by Pompey if Birch can find someone else to take charge.
And Birch admitted he was unsure why Chainrai was so vilified by fans, especially considering he saved them in 2010.
"I don't know the history so I can't comment, it seems to be circumstantial evidence in terms of what is forming people's perceptions," he added.
"Undoubtedly he has put money in, he will say he has saved the club before it went into administration.
"It's difficult for me to comment, I wasn't there and I don't know what went on in the past.
"He has put money into the club and whether he can step back in is a separate situation because the club needs an extraordinary amount of money for next season and I'm not sure he would want to put himself back in that position.
Birch added: "If the club are liquidated it is up to the liquidator to sell Fratton Park. Balram Chainrai does not inherit the ground if the club are liquidated. It is the liquidator who will deal with those assets."
Birch also revealed he has two or three interested parties in the Championship club, who if relegated will lose around £1m in Football League distribution money.
"There are two or three interested parties at this stage," he said.
"But at this stage it is not imminent that they will make a bid.
"We are still working with them and trying to run through scenarios with them that show the club can break even next season or make just a small loss.
"Rather than the large loss it is showing at the moment because of the legacy of player contracts it has."
He added: "Every pound we get is going towards trying to save the season. Anything left after that is being used to save the club. Once we get through to the end of the season we fall off very quickly.
"The only income we can get is from the Football League and our own attendances.
"We fall off a cliff at the end of the season so most of my work is looking at securing the club's future beyond that."