Darlington's hands are tied with squad size - Craig Liddle
Last updated on .From the section Football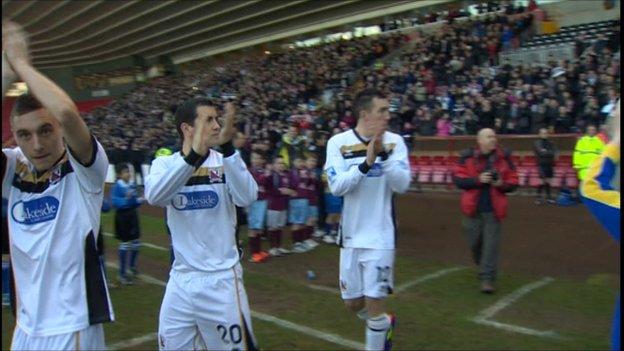 Darlington manager Craig Liddle says the club have been forced to name only 14 players in their squad due to absence and Football Conference rules.
The Quakers, who are in administration, had just three players on the bench for Luton's visit, and cannot add to their pool unless a player leaves.
"When people see 14 players they're probably wondering why, but there are reasons why," Liddle told BBC Tees.
"I'd like to put 16 names on the teamsheet but can't possibly do that."
Since the club was placed under a transfer embargo late last year and then taken into administration in January, the Quakers have made just one emergency loan signing in the shape of Sunderland goalkeeper Jordan Pickford, following Sam Russell's departure to Forest Green Rovers.
Further signings have been made according to squad departures, with Drewe Broughton and Neil Wainwright brought in following Ben Purkiss and Exodus Geoghaghon's exits.
However Liddle has been required to juggle his squad in outfield positions, with winger Neil Wainwright moving to right back and Paul Arnison and Kris Taylor into centre-half for Tuesday's 1-1 draw with the Hatters.
"There are a lot of rules and regulations that people don't know about," the Darlington boss said.
"Rob Ramshaw was missing tonight due to suspension, if I bring in a player on a 27-day loan he might only play one game because Ramshaw is available on Saturday.
"I de-registered myself to allow us to bring somebody else in, and you can't re-register.
"I didn't even know my side until earlier today and I've been trying to get people in but it's been difficult. If we do break any rules we lose points and that will be the end of us."