Somali Federation buoyed by Jeenyo United FC relaunch
By Piers Edwards
BBC Sport
Last updated on .From the section Football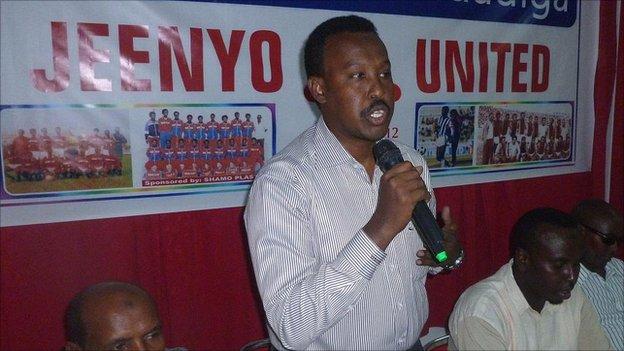 Somalia's Football Federation says the revival of one of the country's leading clubs can lift its national team.
Jeenyo United relaunched on Sunday, some 22 years after the former champions collapsed.
"We are very happy because Jeenyo was once very popular, with enormous support and very talented players," said secretary general Abdi Qani.
"Football needs supporters to improve the quality of the game, the players and national team players."
During its first incarnation, the Mogadishu club won four league championships while also winning the country's prestigious General Da'ud Cup a record six times.
However, Jeenyo last played during the 1990 championship, with football collapsing in the country the following year when the government was overthrown.
The Somali game has struggled to survive in recent times, with championships often having been cancelled due to the ongoing instability in the area.
But the Somali Federation (SFF) managed to run an eight-team league in 2010-2011, and will be doing the same again from May.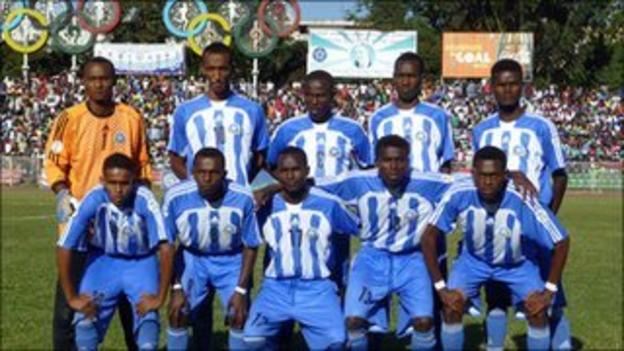 With Jeenyo's return, half of the eight teams are now former clubs who have been re-established, such as army side Horseed, police team Heegan and Mogadishu Port FC.
A ceremony took place in Mogadishu on Sunday to mark the return of the once-great club.
"We are very grateful to the Somali Football Federation which fully lauded the idea when we informed them that we were going to re-establish the well-known club, which was once one of the strongest pillars on which Somali football stood," said Jeenyo's technical director Abdi Hakim Dirie.
Meanwhile, Abdullahi Elmi Warsame, who played for the original Jeenyo before their demise, expressed his desire that the new club could recapture its former glories.
"Our club was the strongest in Somalia and it had the biggest number of fans in comparison with the other clubs in the country in my era," he said.
"I hope it will once again become the leading club in Somali football."
The SFF hopes to be able to play some of the forthcoming season on an artificial pitch which is being built in conjunction with Fifa support.
The new arena, part of Fifa's 'Win in Africa with Africa' project, could be completed by the end of May, whereupon it will host league matches.
And Abdi Qani hopes this can help contribute to the rise of a nation which has never contested an Africa Cup of Nations finals nor World Cup in its 71-year history.
"We have a vision to develop our football to the highest level of our capacity, even though we are not like other countries who have stability and opportunities," Qani told BBC Sport.
"For our football development, we know we are low class because of the situation of our country. We don't have stability, our government is not strong and we have a lot of challenges ahead but our vision is to develop.
"I hope in future, Somali football will reach the highest level - that is what we are thinking and that is our vision."
Somalia is currently ranked 191st out of Fifa's 208 affiliated nations.