Will Brazil be ready for 2014?
By Jefferson Puff
BBC Brasil, Sao Paulo
Last updated on .From the section Football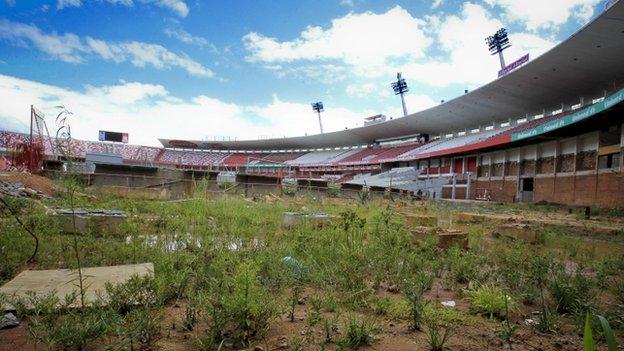 The resignation of Ricardo Teixeira as head of Brazil's football federation, as well as the local organising committee for the World Cup has raised a vital question - will Brazil be ready to host the world's greatest soccer tournament in 2014?
The long drawn out resignation of Teixeira amid corruption allegations he refutes is the latest in a series of setbacks affecting World Cup plans which include delays in crucial works and an unresolved spat with Fifa.
Two years away from the opening match, Brazil's Ministry of Sports says that all construction and renovation work on stadiums, airports and transport infrastructure considered "essential" is on schedule, but admits the possibility that "non-essential" work will not be done before June 2014.
"There is no reason to doubt this World Cup's success, and, yes, we are absolutely sure that it will take place," Brazil's deputy minister of Sport Luis Fernandes told the BBC.
"However, we are studying possibilities to replace and adapt some of the works that may not be finished on time.
He did not, however, want to give details of what he meant by non-essential work.
A review of work needed in all 12 cities hosting matches is scheduled for April, when it is expected that the government will announce the revised plans.
"Shortcuts"
Gil Castello Branco, head of Contas Abertas, a NGO that promotes transparency in public expenditure, believes Brazilians are capable of delivering the games on time.
"That will, depend, however, on a great dose of improvisation," he told the BBC.
Some of these "shortcuts" have been included in the World Cup bill, which is expected to go before the Brazilian parliament this week.
Among the measures, are plans to declare public holidays in all cities hosting matches and changes in traffic regulations to allow the uncongested flow of thousands of people to the stadiums.
Critics say these measures are being taken to compensate for the absence of crucial works in transportation infrastructure, but will compromise the expected legacy of the event to Brazilians.
"Maybe foreign tourists won't even notice, but a lot will be done only at the very last minute. If works are not finished on time, the government will put in place their plan B, C and D," says Castello Branco.
Of the 12 stadiums which are either being constructed or renovated, only five are more than half way finished and some crucial transportation links such as a monorail linking Sao Paulo's central airport to metropolitan trains is still going through a bid process.
And amid fears that Brazil will not be able to cope with an increase in air traffic there are reports of delays in work at the 13 airports needing expansion around the country.
Teixeira
So will the resignation of Ricardo Teixera - a figure who has dominated Brazilian football for 23 years - have a positive or negative effect on the preparations for the World Cup?
On the one hand the constant allegations of corruption as well as the animosity between Texeira and Fifa, as well as the Brazilian president, Dilma Rousseff, has made the process of delivering a World Cup far from smooth.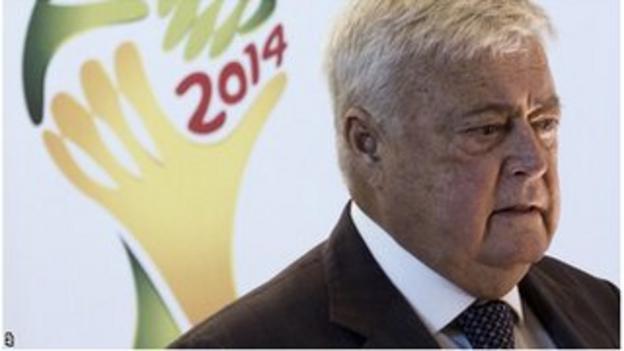 "We're talking about a country that has longstanding difficulties in medium and long-term planning, and having people in leadership positions that do not have clean records and do not enjoy full confidence of the government only makes things harder," says Caio Magri, director of Ethos, an affiliate of Transparency International in Brazil.
But Magri believes Teixeira's absence will have a limited effect, owing to the very similar profile of his successor, 79-year-old José Maria Marín.
"There might be a change of mood, but interests are the same".
Senator Álvaro Dias, a long running critic of football administration in Brazil, believes it was an overdue decision. "It's a shame, more than a victory, that it took so long for someone so demoralised to step aside".
Luis Fernandes, deputy minister of Sport, told the BBC the government's relationship with the football association and the Local Organising Committee remained strong and was built on "institutional bases, and not personal ones."
Teixeira's departure should help improve the relationship with Fifa, but there is still a lot of bridge-building to be done.
Following the comment by Fifa secretary-general, Jérôme Valcke, that Brazilian organisers needed "a kick up the backside," Fifa president Sepp Blatter is meeting with Brazilian president Dilma Rousseff this week in the hope of getting the strained relationship back on track.