Eden Hazard: The player set to spark a summer transfer scramble
By Matt Spiro
BBC Sport French football writer
Last updated on .From the section Football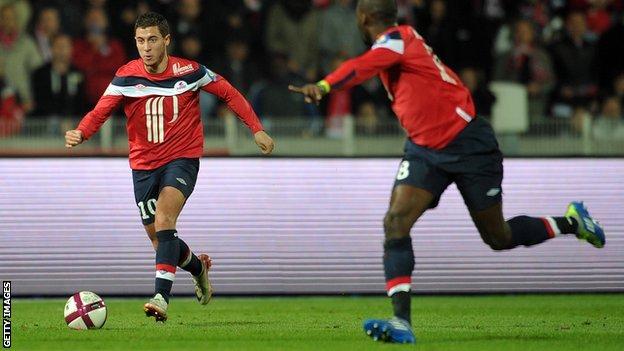 Eden Hazard looked mildly amused when he was informed by his interviewer at half-time of Lille's match against Lyon on Saturday that Sir Alex Ferguson was in the stands and had been caught yawning on camera.
"I didn't know he was here," the 21-year-old shrugged. "Maybe he's tired."
The calm, laconic nature of the response captured Hazard perfectly. Ligue 1's Player of the Year is so laid back, and so sure of his own ability, the thought of being watched by the Manchester United manager did not faze him.
Hazard carries himself with the confidence of a man who knows he is good and knows he is in demand.
Since the precocious forward expressed a desire to move to the Premier League in January, England's leading clubs have been jostling for position. As BBC Sport revealed on Wednesday, Manchester City, United, Chelsea and Tottenham have all contacted Lille to register an interest.
Arsenal boss Arsene Wenger is also a long-time admirer, Real Madrid's sporting director Zinédine Zidane says he would sign Hazard "with his eyes closed", and nouveau riche Paris Saint-Germain are preparing to swoop. The battle this summer is sure to be fierce.
Hazard's emergence as one of Europe's hottest properties does not surprise the coach who launched his career five years ago.
Claude Puel, Lille's manager from 2002 to 2008, had been watching the Belgian closely from the moment he left his parents and three brothers in La Louviere to join the French club's academy aged 14. Hazard was fast-tracked into the first-team squad and became Ligue 1's youngest-ever professional when he signed on aged 16 and three months.
"It was immediately obvious he was a special talent," Puel told BBC Sport.
"I still remember his first game against FC Bruges. As soon as I sent him on, he left four or five players in his wake and scored an amazing goal."
By 17, Hazard was playing regularly for Belgium and starring for Lille on the left flank. Ligue 1's Young Player of the Year in 2008/09 and again in 2009/10, the pacy, skilful playmaker won the senior prize after inspiring Les Dogues to the league and cup double last term.
With Yohan Cabaye, Adil Rami and Gervinho all leaving, Hazard's decision to stay was surprising. The overriding feeling in France was that he had already achieved everything possible in Ligue 1 and the moment had come to move on.
Puel is among those to express concern Hazard may have out-grown French football. "I understand why he wanted to play in the Champions League with Lille," the 50-year-old said. "It was an admirable decision, but now he needs to move on. He's in a cocoon at Lille.
"Eden's strength is that he never doubts himself," Puel continued. "He has so much self-confidence. That enabled him to reach a high level very quickly, but now it's holding him back because he's not pushing himself enough.
"He has everything he needs to become truly a great player, but he has to understand talent alone isn't enough. You have to work as well and he'll only make the next step if he moves to a more competitive environment."
This season has proved anticlimactic. Lille finished bottom of their Champions League group and have been cut adrift in the title race. Hazard has at least continued to sparkle, contributing 11 goals so far (four more than last year) and seven assists from a more central attacking midfield position. Indeed, Joe Cole has been so impressed he described his team-mate as "the best player I've seen at that age", while ex-Marseille boss Rolland Courbis has dubbed Hazard "the right-footed Messi".
Not everybody is getting carried away. Hazard's international form has not reflected his club performances - he has just one goal in 26 appearances for Belgium and his attitude has been questioned by the coach Georges Leekens. Emmanuel Petit says Hazard has rarely turned it on in a big match for Lille.
"I always feel short-changed with Hazard," the ex-Arsenal and Chelsea midfielder told France Football magazine.
"Hazard is a diamond but he needs to be polished by the right jeweller."
Harry Redknapp made it clear in a recent interview with L'Equipe he would love to be that jeweller. Reports in France have also suggested Hazard might prefer Tottenham because of the competition for places at both Manchester clubs.
Hazard's contract runs until 2015 and Lille have set his buyout clause at £33m. The elevated price may rule the two North London clubs out, although Puel - who used to play for Wenger at Monaco and remains in close contact with him - believes the Gunners boss could be tempted to table a club record bid: "I know that Arsene thinks very highly of Eden and his style would fit in perfectly at Arsenal too.
"But ultimately, it will be up to Eden to decide."