Rangers: SFA president Campbell Ogilvie clarifies previous role
Last updated on .From the section Football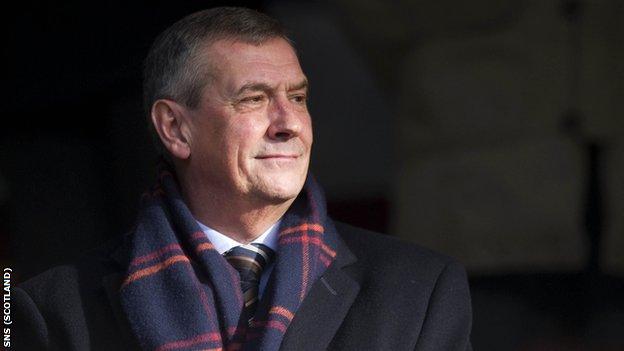 Scottish FA president Campbell Ogilvie has issued a statement in response to "ongoing speculation" over his role and his previous employment at Rangers.
Rangers, currently in administration, are awaiting the outcome of a tax tribunal relating to the use of Employee Benefits Trusts.
Ogilvie has admitted to being a member of the EBT scheme.
But he insists he was never involved in negotiating, drafting or administering player contracts.
Ogilvie released his statement following comments by former Rangers owner Sir David Murray, who has denied that there were ever any "double contracts" for players during his time at Ibrox.
"In light of comments by Sir David Murray, and the ongoing speculation surrounding my role as president of the Scottish FA and my previous employment as a director of Rangers FC, I would like to take this opportunity to clarify the following points," said Ogilvie.
"I was aware of the EBT scheme in operation at Rangers during my time at the club and, indeed, was a member. The existence of the scheme was published in Rangers' annual accounts.
"My role at Rangers, until the mid-90s, included finalising the paperwork for player registrations.
"As confirmed by Sir David Murray , it was never my role to negotiate contracts during my time at Rangers. It is also worth noting that, since the mid-90s, I was not responsible for the drafting or administering of player contracts.
"I ceased being company secretary in 2002 and became general secretary responsible for football strategy, in effect becoming the main point of contact between the club and the respective league and governing bodies."
Rangers have been the subject of independent investigation by the SFA and Ogilvie confirmed he asked to be excluded from the process.
"In the interests of good governance it was absolutely right that this was the case," he added.
"I am proud and privileged to be president of the Scottish FA during an exciting period in its history. I have an excellent relationship with our chief executive, Stewart Regan, and the board of directors.
"I would like to thank them for their support throughout this process and look forward to new and exciting challenges ahead at the Scottish FA."
Meanwhile, the Scottish Premier League has asked for documentation from Rangers' administrators regarding players contracts and registrations.
As part of their enquiry into whether the Ibrox club broke SPL rules regarding the improper registration of players, the SPL have asked for all relevant documents to be sent to them.
Those are expected to be delivered in the next few days.
The SPL solicitors are currently investigating claims of double contracts being issued to players which would be a breach of the league's rules.
If Rangers are found to have broken the rules then either the SPL board or an independent commission would deal with the matter.