Dave Richards sorry for comments about Fifa and Uefa
Last updated on .From the section Football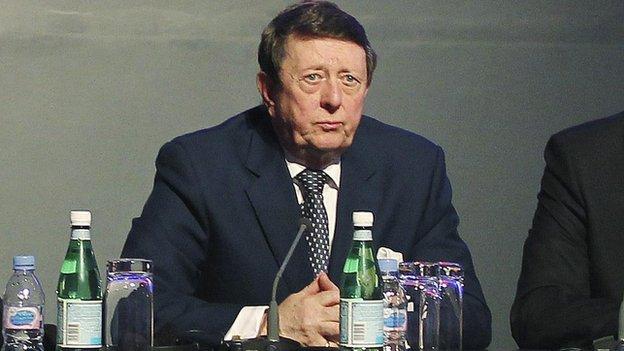 Premier League chairman Sir Dave Richards has apologised for his comments about Fifa and Uefa.
Speaking at a conference in Qatar he said: "England gave the world football. Then, 50 years later, some guy came along and said, you're liars, and they actually stole it. It was called Fifa."
Richards later claimed his comments were "light-hearted" and said he would write to Uefa and Fifa.
"I would like to apologise for any offence caused," he added.
"It is important to clarify that I was expressing my personal views and not those of any organisation I represent.
"My comments on the heritage of the game were intended to be light-hearted. They clearly have not come across in that way and I sincerely regret making them and any resulting negativity that may have been interpreted towards Fifa and Uefa. I will be writing to both organisations in these terms."
Jim Boyce, British vice president of Fifa told BBC Sport: "I have known Sir Dave Richards for the past 15 years and have always held him in the highest regards.
"I was very surprised by his comments, but delighted he has come out and apologised. I hope to try to continue rebuilding bridges at both Uefa and Fifa."
At the conference on Wednesday, Richards suggested that the world had England to thank for football.
"England gave the best legacy anyone could give. We gave them the game," he added.
Richards, who is also a Football Association board member, was speaking in front of Fifa vice-president Prince Ali Bin Hussein of Jordan and International Cricket Council chief executive Haroon Lorgat.
He added: "Fifty years later, another gang came along called Uefa and stole a bit more."
When suggestions were made that the game could have originated in China, Richards replied in a raised voice: "It started in Sheffield 150 years ago. We started the game and wrote the rules and took it to the world. The Chinese may say they own it but the British own it and we gave it to the rest of the world."
The Premier League was quick to distance itself from the comments.
"Sir Dave is attending the conference in a private and personal capacity and his comments in no way reflect the views of the Premier League," said a statement.
Richards also said Fifa allowed the FA to waste money on their 2018 World Cup bid when, he said, they had little chance of winning it.
He said: "Why couldn't Fifa have said, we want to take it to the Gulf, to the eastern bloc? We spent £19m on that bid.
"When we went for it everybody believed we had a chance. But as we went through it a pattern emerged that suggested maybe we didn't."
He also warned fans may boycott the Qatar 2022 World Cup unless beer is made freely available - the sale of alcohol is severely restricted in the Middle Eastern country.
"In our country and in Germany, we have a culture," added Richards. "We call it, 'We would like to go for a pint', and that pint is a pint of beer.
"It is our culture as much as your culture [in Qatar] is not drinking. There has to be a happy medium.
"If you don't do something about it, you are starting to bury your head in the sand a little bit because it needs addressing.
"You might be better off saying don't come. But a World Cup without England, Germany, the Dutch, Danes and Scandinavians. It's unthinkable."
Richards later hurt his leg when he fell into a water feature.
Bolton chairman Phil Gartside was with him at the time and was keen to clarify that he did not fall into a pool, as had been reported, and that Richards had not consumed any alcohol.
"I was on the way to dinner with Sir Dave at the Museum of Islamic Art in Doha," Gartside told BBC Sport.
"We were walking across to our table in a dark courtyard area. There were three fountain areas nearby, no pool.
"They had switched off the lights. He thought he was stepping on to flat marble, but his foot went down into the water, he fell over and hurt his leg quite badly. Any suggestions he had a drink is nonsense. It's a dry place."
The Football Association also distanced itself from Richards' remarks.
An FA statement read: "Sir Dave Richards is not representing the FA at this conference and his personal views are in no way shared or endorsed by the FA.
"The FA greatly values its relationships with Fifa and Uefa, which it is working hard to strengthen."