Celtic striker Anthony Stokes unsure of Cup final place
Last updated on .From the section Football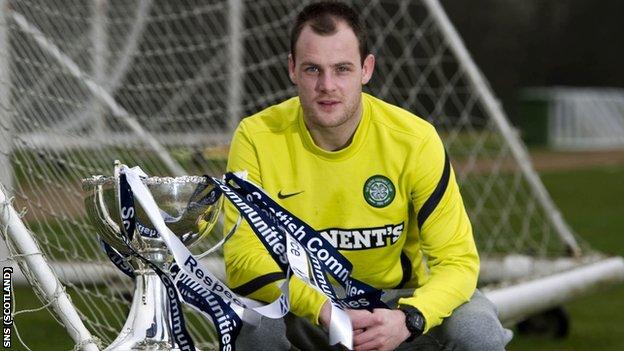 Celtic's joint-top scorer Anthony Stokes does not expect to start Sunday's Scottish Communities League Cup final against Kilmarnock.
Stokes scored twice in the semi-final victory against Falkirk and has netted 20 times so far this season.
"I'm not expecting to start at all," said Stokes. "The gaffer changes it up quite a bit so he'll be putting out a team to win.
"Obviously, I'd like to think that I'll come into the equation."
Despite his prolific scoring record, Stokes has often been used as a substitute, a role he often finds difficult.
"I find it quite hard, to be honest," he said.
"Sometimes it can take you 10 or 15 minutes to get into a game and you don't quite have that time sometimes.
"It can be quite difficult but obviously I'd rather be starting."
Celtic are top of the Scottish Premier League with a 21-point lead and are also through to the semi-finals of the Scottish Cup, making Sunday's encounter with Killie the first part of a potential domestic treble.
"It's a trophy, every trophy's important to us and we take it as serious as the league or the other cup," said Stokes. "It's massive for us and we're looking forward to it.
"It's the business end of the season. We've done really well so far but it could all count for nothing if we don't keep our high standards that we've over the last few months.
"I think we're a different team this year, I think we're a better team. We'll learn from last season and try to push ourselves even further.
"We didn't get over the line in the league last year and got to the final in one cup and lost. We want to try to rectify some of the mistakes we made last year."
Stokes' first Celtic goal came against Killie and the striker also bagged a double in a 3-3 draw between the sides at Rugby Park earlier this season.
"We know every team can be dangerous in this league," added Stokes. "I think a cup final is a little bit different.
"There's a lot at stake and we're going out to win the game. It's going to be a very tough game.
"Kilmarnock have played some very good football this year and, obviously we know from our own encounter there earlier on in the season, that they're a very tough team.
"We'll have to be at our best.
"I've got a decent record against them but that counts for nothing. I just want to try to get myself in the team for the weekend and obviously try and win the cup.
"The run we've been on the last few months has been exceptional. We just want to keep that going. It's the business end of the season, it's make or break to win titles and trophies."