Lord Goldsmith 'concerned' at Fifa investigations of World Cup misconduct

By David Bond
BBC sports editor
Last updated on .From the section Football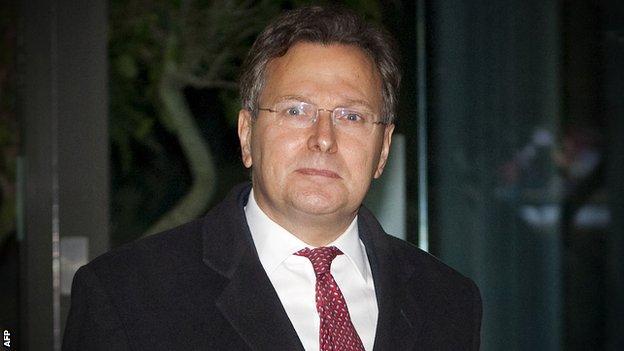 Former Attorney General Lord Goldsmith has told the BBC he is 'concerned' at the level of investigation by Fifa over allegations of vote rigging and misconduct in the 2018 and 2022 World Cup campaigns.
Goldsmith is a member of the Independent Governance Committee (IGC) - a group set up by Fifa in 2011 to look into ways of reforming world football's governing body following a series of corruption scandals.
The IGC, chaired by the Swiss academic Mark Pieth, is due to finalise its report in the next few days before it is presented to the Fifa executive committee for approval at a meeting at the end of this month.
Although the IGC's remit prevents it from opening inquiries into past allegations itself, Lord Goldsmith said the committee had concluded that Fifa's handling of the storm around the World Cup bidding contests was "unsatisfactory".
The findings are likely to re-open the public debate about the bids and prompt fresh calls for a re-run of the votes.
"We have spent a lot time looking at the allegations of past misconduct including the World Cup host selections," said Lord Goldsmith, a partner at international law firm Debevoise and Plimpton.
"We have looked closely at the way allegations regarding those World Cup host selections have been dealt with and we have not been satisfied with the level of investigation which has taken place.
"We are concerned about two things - we need a system in place for the future with much stronger controls in a number of different areas.
"But we also need structures that will give people confidence in Fifa. And in order to do that it's necessary to understand what may have gone wrong in the past.
"Fifa is not just a family of football or a regulator for the game. It's a multi-billion dollar business which makes huge sums of money.
"We have come up with a list of recommendations for Fifa's executive committee and I hope that will be approved before then being passed to the Fifa congress."
A former Fifa executive has welcomed Goldsmith's calls for transparency, saying that the organisation needs to build public confidence in the World Cup bidding process.
"No stone should be left unturned. The World Cup is such a big event," former Fifa head of international relations Jerome Champagne told the BBC.
Qatar shocked the world by beating the United States and Australia to win the race to stage the tournament in 2022 leading to a series of allegations - denied strongly by both Qatar's bid leaders and Fifa executives - that votes had been bought.
Russia won the vote for the 2018 competition with England eliminated in the first round having received only two votes.
Champagne acknowledged that the opaque nature of Fifa structures encouraged corruption and misconduct amongst its members.
"We cannot be naive - there is sometimes interference," he said.
"Fifa is managing a 21st century sport with 19th century structures. We are at a crossroads for the future of football and the future of Fifa. Fifa needs to be more democratic and more open."
Hosting contracts with Fifa have already been signed by Qatar and Russia, and both countries are now involved in detailed planning for the tournaments, so any move to re-examine allegations surrounding the way they won will be met with fierce resistance and possible legal challenge.
Fifa has been beset by corruption scandals, the most serious being the cash for votes affair involving former Fifa presidential candidate Mohammed Bin Hammam. The Qatari withdrew from the race against Sepp Blatter in May 2011 after claims emerged that he tried to bribe members of the Caribbean Football Union.
Bin Hammam has been banned from football for life although he is still appealing while another former Fifa executive Jack Warner resigned after he was accused of arranging the now infamous meeting in Trinidad.
Fifa president Blatter has vowed to clean up Fifa and has promised to publish legal documents relating to the collapse of former marketing partner ISL which are believed to implicate another Fifa executive, Ricardo Teixeira, in taking kickbacks.
This week Teixeira resigned his position as president of Brazilian football and head of the Brazil 2014 World Cup organising committee due to ill health. His position on the Fifa executive committee remains unclear, but former Fifa official Champagne has backed calls for the Brazilian's removal.
"Anyone who has lost their place as head of federation should lose [their] seat on Fifa exco," he said.
The IGC's report is due to be submitted to Fifa's executive committee on 29 and 30 March before a final decision is taken by the Fifa congress in Budapest in May.