Barcelona defender Eric Abidal to have a liver transplant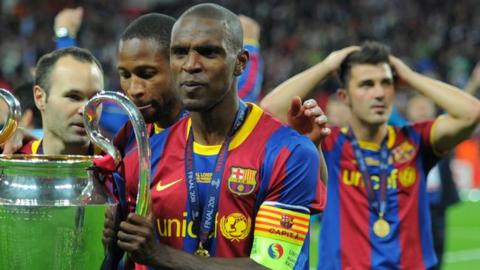 Barcelona and France defender Eric Abidal is to undergo a liver transplant.
The 32-year-old had surgery to remove a tumour on his liver last March, but recovered in time to play in the Champions League final just two months later.
"Over the coming weeks, the player will undergo a liver transplant," a Barcelona club statement confirmed.
"The transplant was an option since the start of his treatment a year ago."
Abidal, who agreed a new one-year deal with Barcelona in January, has been a regular this season starting 20 league games.
He is now a serious doubt for France's Euro 2012 campaign in Poland and Ukraine, though he spent only seven weeks on the sidelines following surgery last year.
He returned to play the final minutes of Barcelona's Champions League semi-final second leg tie with Real Madrid at the start of May.
Abidal's Barcelona team-mate Gerard Pique backed the Frenchman to return to action, posting on his Twitter account: "And you will return as always, still the best! You are an example for all!"