Liverpool Ladies sign three players ahead of WSL
Last updated on .From the section Football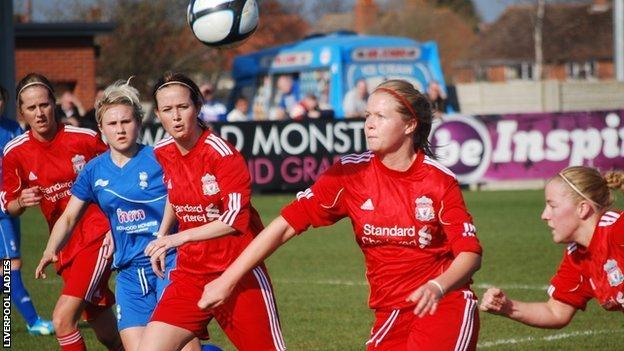 Liverpool Ladies have signed three players ahead of the Continental Cup opener with Arsenal on Sunday.
The Reds have added defender Dani Lea, 17, re-signed goalkeeper Nicky Davies, 27, and promoted striker Hannah Keryakoplis, 17, from the reserve team.
"Our new signings have helped to bolster the squad," said Liverpool boss Robbie Johnson.
"We're confident of securing some key players before the league starts, which will stand us in good stead."
Liverpool have already signed New Zealand international keeper Aroon Clansey and have four players awaiting international clearance before joining the club.
The Reds play last season's treble winners Arsenal on Sunday, who are joined in Group A by Chelsea and Lincoln.
"Arsenal will provide a tough test for us," Johnson added. "They have some fantastic players and were the stand-out team of 2012.
"Yet, we're going into the match with confidence and know that we have the capability to match them across the pitch."