Notts County's Kieron Freeman wins Football League award
Last updated on .From the section Football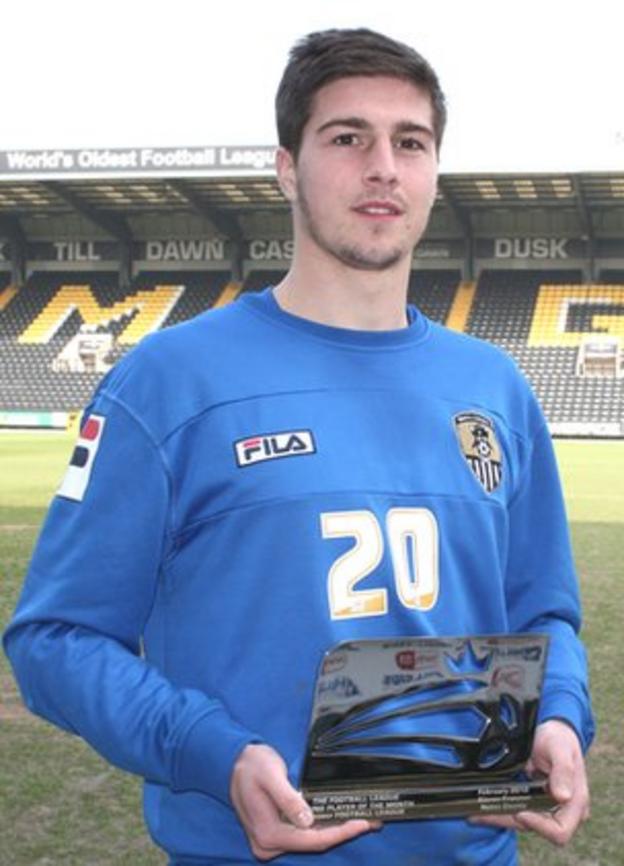 Notts County manager Keith Curle has tipped Kieron Freeman to play in England's top flight after the right-back won the Football League's Young Player of the Month award for February.
Curle told BBC Sport: "I think Kieron will play Premier League football.
"If he keeps on progressing the way he is, he has all the attributes."
Freeman has played all five games since Curle took over as Notts boss in February, helping them win four and draw one.
The Magpies, who are now sixth in the table, did not concede a goal in the first three matches and have only let in three in total.
Two of those came in the thumping 4-2 win over league leaders Charlton Athletic last weekend.
Curle has been quick to praise both Freeman's talent and his attitude during that run.
"I have very impressed by him," Curle said. "He is level headed and has good ability. He has a calmness about him and a willingness to get forward.
"He has a rawness and his enthusiasm for the game is fantastic. He wants to learn, he is developing as a player and he is coping with everything."
Freeman, who has also been on loan at Mansfield Town, joined a rare band of footballers to have played for the three main Nottinghamshire clubs when he played his first game for Notts against Bournemouth in January.
But Freeman's achievement was all the more special because he completed his hat-trick in successive weeks.
The Wales Under-21 international was on loan at Mansfield until 1 January and then returned to Forest, where he played in the FA Cup tie against Leicester on 7 January.
His Notts debut came against the Cherries on 14 January, and he has played 11 games for the Magpies so far.
Curle said he has noticed Freeman's improvement even in the short time he has been at the club.
"He was shy and timid but grew in stature as soon as he went onto the pitch and became an equal," added Curle.
"He's unfazed no matter who he is playing against."
And Freeman himself is in no doubt that the experience of playing first-team football has helped him tremendously.
"You can't really put a price on going out and playing for three points on a Saturday - that's the biggest thing," Freeman said.
"It's helping me mentally and physically, but mainly mentally playing in front of five or six thousand people.
"Obviously I want to play at the highest level but that comes with time and it really has progressed my game coming into League One."
But he is quick to praise his team-mates for his award.
"When I play I never play for myself. I never really think about awards for me. I am more of a team player.
"But my dad will bang it straight into the trophy cabinet."