Mark Lawrenson column: A disappointing night for Manchester

By Mark Lawrenson
Football Analyst
Last updated on .From the section Football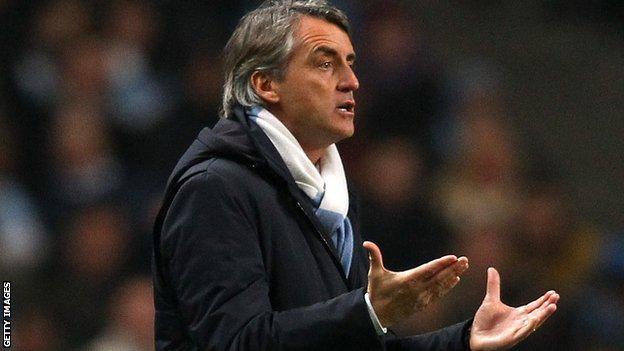 I'm very surprised that both Manchester City and Manchester United went out of the Europa League on Thursday night.
I thought United might give us one of their rousing performances and sneak through, but I am very surprised that City were knocked out.
Now only Chelsea remain of the English clubs in European competition. With the possible exception of City, the teams in the Premier League are not as good now as they were in 2008-09 when there were three English teams in the Champions League semi-finals.
That is certainly the case for Chelsea, Arsenal and Manchester United.
In Europe this season, too many of our teams have been too easy to score against. Defensively if you are spot-on at this level, you can still play badly but get a result.
The worrying thing from City's points of view is that, tactically, Mancini got it all wrong at Swansea in their 1-0 defeat on Sunday. And he got it wrong again at the Etihad Stadium against Sporting Lisbon.
The team was set up in completely the wrong way and you could not say that he did not know much about the Portuguese side as they only played them a week ago.
They came back from 2-0 down to win 3-2 in the second leg, going out on the away goals rule, but at the start the shape was wrong, the tactics were wrong and, for the first two-thirds of the game, they were poor.
The worst thing is that you could see from the last 30 minutes how much better they were than Sporting. If City had played anything like that for the full 180 minutes of the tie, they would have gone through comfortably.
Then there is the subject of Mario Balotelli.
The thing about Balotelli is that his ability is never in question but, in the end, the rest of the players must think "what is the point?". There is clearly no love lost between him and Yaya Toure. And you cannot keep indulging the Italian because you do not know what you are going to get. He is either at one end of the scale or the other.
City have almost a week before they play Chelsea in the Premier League so Mancini can kick some backsides and get his team going for that game.
Mancini's team now trail United in the title race but, psychologically, the situation can change really quickly and I think Carlos Tevez might have something to say about who finishes first.
United are in front and have been pegging away at City for some time but I have no doubt there will be more twists and turns in this title race.