Patrice Evra: League title can save Man Utd's season
Last updated on .From the section Football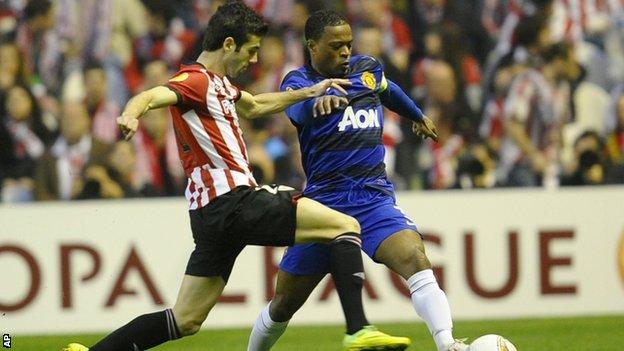 Manchester United's Patrice Evra said his team need to win the Premier League in order to salvage their season after being knocked out of Europe.
And with a point advantage over league rivals Manchester City, the pressure is now on for United to win silverware.
"If we want to save the season we have to win the league," Evra told the BBC.
"If we don't win the league, it will be a really bad season."
United face Wolves on Sunday as they refocus on their league challenge.
Against Athletic Bilbao, Sir Alex Ferguson's team slumped to a 2-1 defeat on the night thanks to goals from Fernando Llorente and Oscar de Marcos, to follow up a 3-2 loss at Old Trafford last week.
And they were once again taken apart in a superb display by Marcelo Bielsa's team.
Wayne Rooney's 28th goal of the season was the only bright spot on an otherwise disappointing evening as United failed to reach a cup final for the first time in 10 years.
Evra said he was not worried by his team's league form but could not explain why United had not shown the same will to win in Europe this season.
"It's been a disaster in the Champions League and in the Europa League now I think we have to tell the truth - we deserved to go out because we never played with the same desire as when we play in the league," the acting captain added.
"We can see the difference in the league. We are top of the league and we are more focused [but] I don't know why."
His manager was not prepared to see a European exit as offering any assistance to the title run-in.
Ferguson named a strong team against the Spanish side but he withdrew Rio Ferdinand, Michael Carrick and Ryan Giggs with Sunday's game at Wolves in mind.
The United boss stated: "It's not a sense of relief [to go out] because there are still 10 games to play in the league.
"It's disappointing more than anything that we haven't progressed in the Champions League and we are out of the Europa League now."
On the result, Ferguson added: "I don't think we can complain. In the first half we gave away a really soft goal. That was the last thing we wanted and I can't believe we lost a goal like that, it was really poor.
"At the start of the second half they did really well and could have scored two or three more goals.
"We did better later on but nowhere near enough to win."