Hearts hit out at fringe players after another wage delay
Last updated on .From the section Football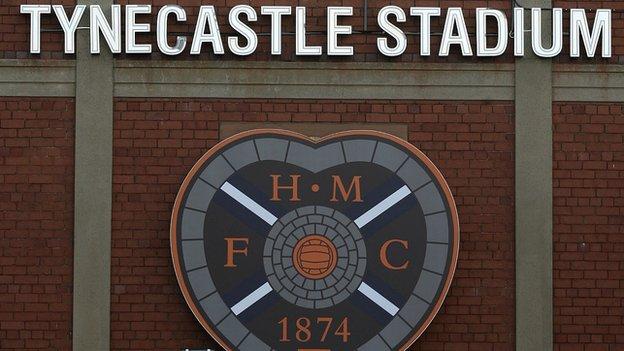 Hearts have confirmed a delay to this month's player salaries while accusing fringe players of taking their wages and choosing an easy life.
Delays on three consecutive months led players to complain to the Scottish Premier League in December.
Now the club lament their failure to persuade more to leave in January.
"They elected to stagnate, preferring to take the club's money while offering very little or nothing in return," said a statement on Hearts' website.
Board members have told the squad that UBIG, the Lithuanian bank owned by majority shareholder Vladimir Romanov, was still trying to secure the required funds for wages.
However, Hearts played down fears about the club's financial future.
"Hearts today rejected any funding doubts following confirmation that the playing squad would not receive their wages," they said.
"The club expects players to be paid before the end of March."
Hearts avoided threatened sanctions from the SPL following the players' December complaint.
Wages arrived late in January, but only by one day, and the league chose not to follow up with a charge of "failing to behave with the utmost good faith to the SPL".
The club have admitted they expected a more profitable transfer window, but the SPL's biggest spenders outside the Old Firm have stated their intention to reduce the wage bill in the summer.
"The marketplace has changed significantly in favour of clubs, as opposed to players and their agents, and we fully expect to reduce the playing staff salary bill towards recommended industry standard levels," Hearts' statement added.
"This is important as the club has been moderately successful in agreeing mutual early terminations with players, which assisted eight players to exit the club in January and allowed those players to develop their careers elsewhere.
"This is an issue that the club will resolve to a large extent at the end of the season and, at that point, we would expect that payment delays should be eradicated."
Striker Calum Elliot accepted a severance deal in January, while midfielder Ryan Stevenson joined Ipswich and defender Eggert Jonsson was sold to Wolves, which the club claimed helped to pay wages.
"The club's cost base will continue to reduce and further significant gains will be realised when the squad is reshaped at the end of the season," Hearts added.
"The club is very confident that we shall be able to not only maintain the quality of the squad but also improve it and do it more efficiently than previous years, aiming to remain as one of the top three spenders."