Pressure builds for Premier League title run-in
By Alistair Magowan
BBC Sport
Last updated on .From the section Football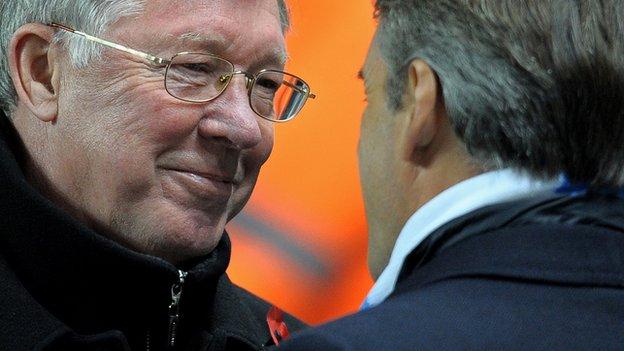 Experience is what counts when it comes to the top-flight title run-in.
That is the verdict of Alan Hansen, Gary Pallister and Lee Dixon, a trio of former players with 15 First Division and Premier League medals between them.
So when last season's champions Manchester United overtook rivals Manchester City last weekend, it looked like a telling blow. Not only was City's defeat by Swansea the fourth in their last eight away games, but it handed United a one-point advantage, extended to four points after victory over Wolves on Sunday, with a more favourable list of games to come.
Not that any matches will be straightforward, but the benefits appear to be stacked in United's favour save for, perhaps, a stronger City squad and a potential title decider at the Etihad Stadium on 30 April.
Alan Hansen
"If City don't improve their away form, that game is irrelevant," said former Liverpool defender pundit Hansen, who won eight titles. "The defeats at Chelsea and Sunderland weren't that bad, because they didn't play badly, but the ones at Everton and especially Swansea were poor.
"There wasn't a lot of spirit in the team. I know captain Vincent Kompany was missing but there wasn't a lot of leadership and that has to come from the manager [Roberto Mancini]. United boss Sir Alex Ferguson would never have accepted a performance like the one at Swansea."
Mancini, of course, is not without title-winning experience. As the former Inter coach, he guided his team to three Serie A titles in a row before joining City.
Then there is the playing staff. The 22 Premier League medals of Ryan Giggs and Paul Scholes almost match City's combined total of 23 titles. Mancini's squad contains 10 champions, while United have 19 - comprising 76 championships in all.
Nevertheless, even for the likes of Giggs and Scholes there had to be a first time.
Gary Pallister
Alongside Giggs, former defender Gary Pallister was part of the Manchester United team in 1993 that won its first top-flight title for 26 years. The previous season they had been pipped by Leeds in a nail-biting finale when Pallister says they were "hung out to dry" by playing four games in eight days.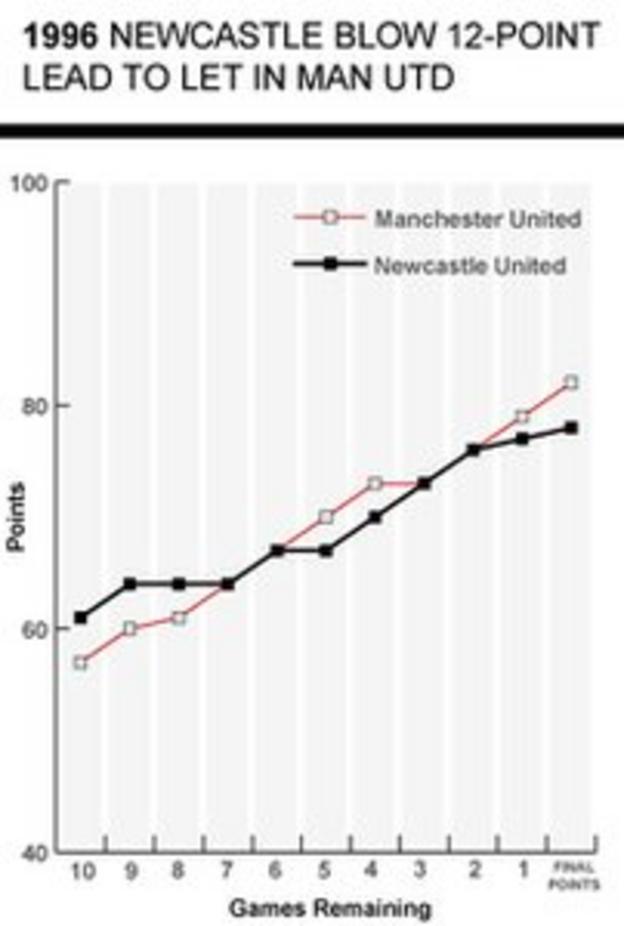 "We knew we were good enough to win it even if people said we bottled it," Pallister said. "So we just took that confidence into the following season. We also brought [former Leeds forward] Eric Cantona into the fold which gave us a different dimension."
So do Mancini's side need to go close once before they can win it?
"I wouldn't say so," Pallister added. "There is a build-up of momentum, of players believing that you are good enough. We did that over a period of time from when I came into the club in 1989 with Paul Ince, Danny Wallace, Neil Webb and Mike Phelan all arriving too.
"We started putting the pieces together and the manager had a blueprint which he laid down and worked from. Eventually we got stronger, more confident in each other and became more of a team."
Although Mancini has built his side with huge resources over the past three seasons, the Italian coach has already said that winning the FA Cup last term was an important step in creating a winning mentality among his squad. The returning Carlos Tevez could also give City a timely boost akin to Cantona's arrival.
Lee Dixon
One pointer could be the way Blackburn held off Manchester United's challenge in 1995 to win their first and only Premier League title.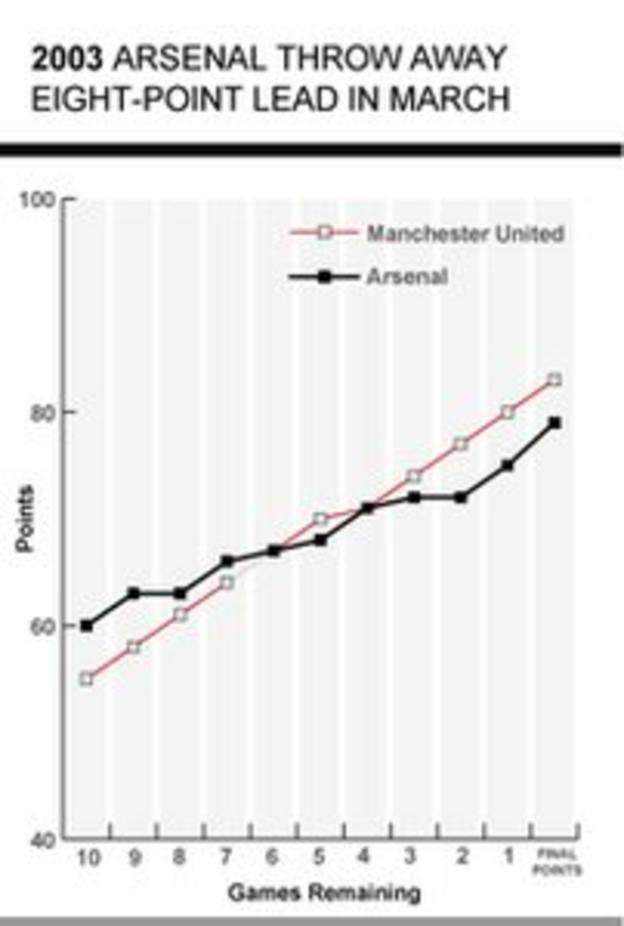 And in 1989, not only did Arsenal win the title in the most dramatic fashion by beating Liverpool in the last game of the season by the two clear goals they needed, they did so having surrendered a 15-point lead.
The Gunners slipped to a three-point deficit going into the final game of the season but that was the helping hand they needed; the pressure was off because they had blown two chances to win the league in their previous two home games against Derby and Wimbledon.
So even though losing to Swansea has given United the upper hand, City may yet acquire the space they need to re-focus by becoming the hunter rather than the hunted.
"We didn't cope particularly well with the pressure," said Dixon, one of the key players in Arsenal's 1989 title-winning side. "We were quite a young side. Nigel Winterburn, myself, Steve Bould, it was all new to us playing at that level so David O'Leary shouldered quite a lot of the responsibility.
"We had to beat the great Liverpool by two clear goals, so it was like 'we're not going to do it, are we?'
"With them thinking they weren't going to lose, and us thinking we had perhaps lost our chance, we went into the game quite relaxed and that helped."
City have not challenged for the title since they were runners-up in 1977, and are aiming to win it for the first time since 1968.
For now, it is advantage United and although most indications point towards Ferguson's team retaining their title, Mancini is not the sort of character to give up without a fight.
"We cannot cry, now is the time to be strong," Mancini said. "We have 10 games and it is in our hands."