Matt Bloomfield column: The myth of the League One footballer

By Matt Bloomfield
Wycombe Wanderers midfielder
Last updated on .From the section Football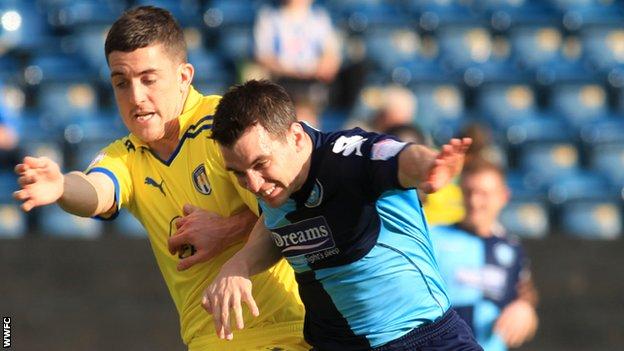 The public image of professional footballers is that we live lavish lifestyles and go home from training to mansions complete with swimming pools and private cinema room.
What has surprised me during my time out doing journalism work experience is that this misconception - and it is a misconception - seems to apply to all professional footballers.
For those of us that ply our trade in Leagues One and Two things are slightly different.
Of course we are very lucky to have the job that we have and lead the life that we lead. I would genuinely not change it for the world, but the fact is we have the same worries as everyone else and live in the real world.
The mortgage needs to be paid, bills need to be paid and in my case a wedding needs to be paid for!
My fiancée and I are currently organising our big day for this summer. It's such an exciting period of our lives, but it's also a bit of an unsettling time for us as well.
In the summer I am going to be a married man and then technically unemployed nine days later when my contract expires. I hope that's not how I start married life, but at the moment that's the reality of the situation.
There has also been a certain amount of uncertainty for players recently with the continued financial predicament that is currently affecting several football clubs.
We have seen players at Port Vale not getting paid, and I am sure that it will be a thought on a lot of players' minds this summer when getting approached by prospective new employers: "What financial state is the club in?"
Even though we have endured a testing season at Wycombe, I'm not sure there have been many times during my career when I have enjoyed myself more than I am currently.
I think with experience comes the maturity to truly savour what you have and I think maybe that has come out in my performances recently.
My love for my job could definitely be interpreted as an obsession. Switching off and leaving work at the door has never been easy for me.
Last week was a good week for us in our survival bid. A win and a goal at home against Leyton Orient was followed up by a solid point against play-off chasing Colchester.
I'm sure most people would have been happy with their work and been able to enjoy a nice evening on the back of four points in two games.
However I lay in bed worrying about a couple of bad corners in the first half. Like I say, sometimes it verges on an obsession.
There is nothing wrong with thinking about your game and ways to improve. I have watched back nearly every home game from this season that I have played in.
A lot of players couldn't think of anything worse, but I find it therapeutic to watch the match again and to put the game to bed and move on.