Fifa happy with resolution of Nigerian 'problem'
By Oluwashina Okeleji
BBC Sport, Nigeria
Last updated on .From the section Football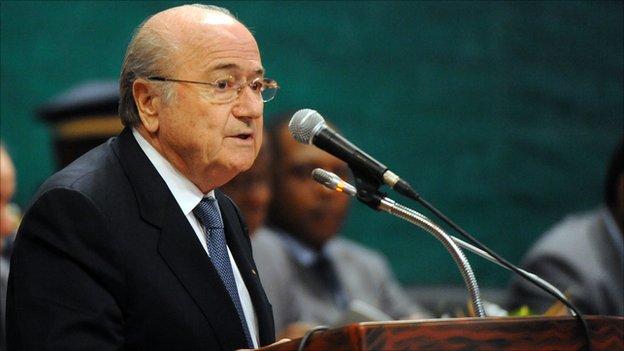 Fifa says it is encouraged by the peaceful resolution of the crisis that has plagued Nigerian football recently.
Sepp Blatter met a Nigerian delegation led by Sports Minister Bolaji Abdullahi and Nigeria Football Federation (NFF) chief Aminu Maigari in Zurich.
This followed Tuesday's news that court cases against the NFF and the Nigerian Premier League had been withdrawn.
"We are happy this is resolved. Now we can focus on the business of football development in Nigeria," said Blatter.
"We have had this issue on our desk for a long time. Therefore, I cannot thank you enough for resolving this problem," the Fifa president told Abdullahi on Thursday.
"Football cannot grow in an atmosphere of instability."
In January, football administration in Nigeria was thrown into turmoil when a federal high court in Abuja dissolved both the NFF and the Nigerian Premier League (NPL).
The court declared that only the Nigeria Football League (NFL) and the Nigeria Football Association (NFA) have the legal authority to operate.
This came about because when the NFA became the NFF in 2009, the change was not properly registered.
The NFF has since appealed the court decision but the case is now theoretically closed after the complainant, a former Nigeria Referees Association (NRA) president Sam Sam Jaja, withdrew his case.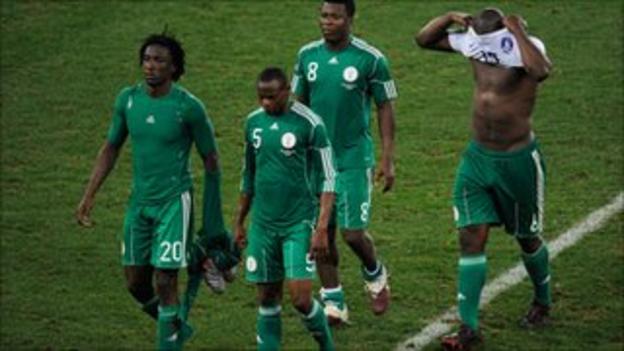 At Fifa headquarters in the Swiss city Zurich, the respective parties met to discuss the progress that has been made to resolve Nigeria's recent problems.
After their early exit from the 2010 World Cup in South Africa, Nigeria's Super Eagles are trying to revive their flagging fortunes after their failure to qualify for this year's African Cup of Nations.
But court cases, infighting and government interference in the administration of the NFF have tended to overshadow plans to revitalize football in the country.
Although Fifa rules prohibit any government intervention into a ruling body, Blatter was reportedly stunned when informed that the Nigerian government gives the NFF an annual subvention of $20 million.
"You guys (NFF) are lucky. We are only not happy when we have reasons to believe that a government wants to take control of the NFF that has been duly elected or sacks a federation with fiat," he said.
"And even we in Fifa are reviewing our statutes as part of our reform process so as to allow for greater accountability and transparency.
"With this kind of [financial] support, we cannot ask government not to demand accountability."
Fifa promised to work with Nigeria in the days ahead to achieve sustainable peace in the Federation and ensure that all other issues are amicably resolved.
Also present at the Zurich talks were Patrick Ekeji from the National Sports Commission, NFF secretary general Musa Amadu and the two key personalities involved in the lawsuits, Sam Sam Jaja and Ray Nnaji.