Tottenham boss Harry Redknapp hopeful of top four place
Last updated on .From the section Football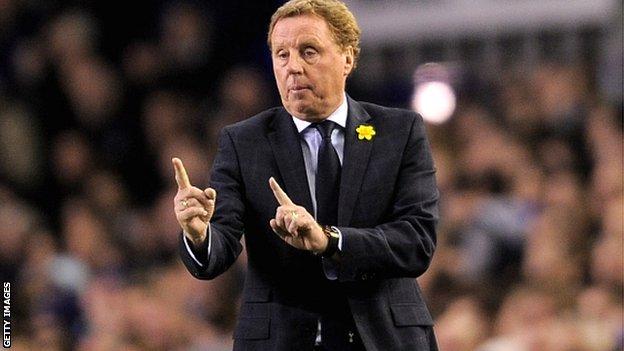 Tottenham manager Harry Redknapp remains confident his team will finish in the top four this season despite an indifferent recent run of results.
Spurs are now only a point ahead of fourth-placed Arsenal after successive defeats against Arsene Wenger's team, Manchester United and Everton.
"It will be a fantastic achievement if we finish in the top four this year and I think we will do it," Redknapp said.
"We haven't been getting results but I have no problems with the performance."
When Spurs travelled to Manchester City on 22 January they were in contention for the title, and victory at the Etihad, instead of the injury time 3-2 defeat that transpired, would have left them only two points behind the two Manchester sides who have subsequently pulled away from the rest of the Premier League.
Since then, Redknapp has been the subject of continual reports claiming he is the overwhelming favourite to succeed Fabio Capello as the permanent England manager and many observers, including Manchester United boss Sir Alex Ferguson, believe the speculation has unsettled the club.
The Lilywhites, who last finished third in the top flight in the 1989-90 season, were 13 points ahead of north London rivals Arsenal after beating Wigan 3-1 on 31 January.
That gap has evaporated after three successive league defeats for the first time since Redknapp took charge in October 2008, and only two victories in eight league matches.
Redknapp's team face Stoke at home on 21 March for their next league assignment, before a difficult trip to Chelsea, who are now only four points behind them in fifth place, three days later.
"We've only finished in the top four once. It's not as if we have been there every year," the manager insisted.
"If we finish in the top four we have over-punched our weight to be perfectly truthful. We will have way exceeded expectations."
The 65-year-old added that star players Luka Modric and Gareth Bale would not leave the club if the team failed to qualify for the Champions League.
"If Arsenal don't get in the top four will Robin van Persie leave? If Chelsea don't get it, will John Terry walk away? No it doesn't work like that," he said.
Spurs turn their attention to the FA Cup this weekend, with a home quarter-final tie against Bolton on Saturday evening.
Redknapp, who won the competition with Portsmouth in 2008, said: "It's a great tournament and we want to go all the way to Wembley now and win it."