Hereford chairman Keyte denies administration rumours
Last updated on .From the section Football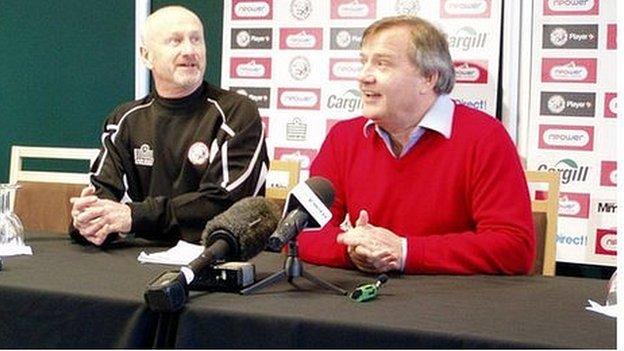 Hereford United chairman David Keyte has dismissed rumours that the League Two club is considering administration.
The Bulls have lost 11 of 18 home games, with attendances at Edgar Street in decline.
But Keyte told BBC Hereford and Worcester: "We don't owe money to the tax man or the VAT man but we are a League Two club on poor attendances.
"We are going hand-to-mouth on a week-to-week basis but we are not in [going] into administration," he added.
The Hereford chairman admits home attendances this season have been disappointing but he is calling on lapsed supporters to get behind the club in their relegation fight.
The Bulls have only won four times in the League at Edgar Street so far this season while they were also beaten at home by Yeovil Town in the first round of the FA Cup.
"I appreciate the football at home hasn't been very good, and we have lost 11 times which is unacceptable to everybody," he said.
"There are frustrations from the customers in terms of performances - that is totally accepted, they have voted with their feet," he said.
"But the time is coming around now when I hope the supporters feel they have made their point," he added.
And Keyte acknowledged that the club is likely to be in breach of the Football League's ruling that no more than 55% of turnover can be spent on players.
But he insists this is down to poor attendances rather than poor budgetary planning as he feels their predicted attendances were realistic.
"We've got to a point where we are averaging less than 2,000 supporters at home when we budgeted for around 2,200-2,300 of our own supporters," he said.
"When you have had 18 matches now in which you have lost around £5,000 per match, you can see why the best part of £100,000 has not come into the club this year.
"Even on the original 55% factor it is obvious we are short of where we would like to be."