Celtic boss wants to end turbulent week on Cup final high
Last updated on .From the section Football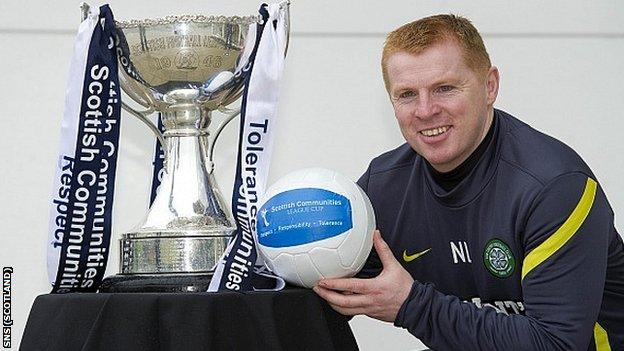 Celtic boss Neil Lennon wants to end an extraordinary week in his personal life by winning the League Cup final against Kilmarnock at Hampden on Sunday.
Lennon was later in the witness box for the trial of two men accused of conspiring to murder him.
"It was a difficult start to the week but I'm hoping it ends with my team playing well and going on to win the cup final," said Lennon.
"There has been a wide range of emotions involved this week."
With Celtic enjoying a huge lead in the Scottish Premier League and in the last four of the Scottish Cup, Sunday's final represents the first leg of a possible domestic clean-sweep.
But Lennon dismissed all talk of a Treble, choosing to focus soley on the silverware up for grabs at Hampden.
"For me it has been a very significant trophy in my career," he added.
"The League Cup was my first major trophy at Leicester and it was my first major trophy here at Celtic in 2001 and it was my first as Celtic captain.
"It's a trophy that's there to be won.
"People sort of dismiss it but when they get to the final all that dimissiveness goes and all of a sudden it becomes a huge day out, which it is.
"It is a huge day out for the supporters and it will be a big day for the players.
"Some of the players didn't do themselves justice last year (losing to Rangers in the final), they get the chance to rectify it and that doesn't come around often and I'm hoping they do that on Sunday.
"It's all about the cup final. We haven't talked about anything else apart from this game.
"It's a trophy that is important to win and is important to myself in terms of my own record and is important to the players.
"There will be some who will be playing in their first final with the chance of winning their first medal and it's all on the day.
"I am not picking a team with the following week (a league visit to Rangers) in mind, I am picking a team with the focus on this game."
Lennon also used his pre-final conference to send a further warning the Scottish media.
The Celtic boss refused to speak to reporters before and after last week's Scottish Cup quarter-final win over Dundee United at Tannadice.
He did, however, tell BBC Radio Scotland that he was angry at suggestions his club were trying to benefit from the financial woes of administration-hit Rangers.
Asked if he believed Celtic had been unnecessarily dragged into Rangers' problems, he replied: "Yes, spot on.
"I have not been happy with some of the coverage our club has been getting.
"Unless attitudes from some journalists change to myself and the club I will continue to refuse to speak to them.
"I am as professional as possible with the press and give them the respect that I think should be reciprocated but at times I don't think it is.
"It is up to some people to get a grip of themselves and behave in the professional manner which myself, the club and my players give to them."