Malawi plan first meeting with China ahead of big month
By Frank Kandu
BBC Sport, Blantyre
Last updated on .From the section Football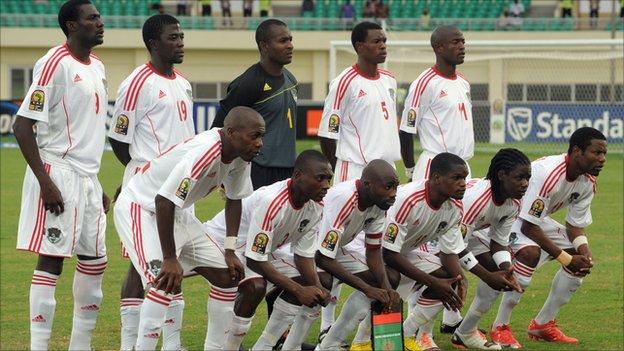 Malawi are to embark on a brief tour of China next month in preparation for a series of crucial World Cup and Africa Cup of Nations qualifiers.
The Flames will face China's national team for the first time, using local players, before a hectic three-week period in June.
Malawi step up their bid to reach the World Cup finals with matches away to Kenya and home to Nigeria. These are followed by the second leg of their Nations Cup qualifier, in which they trail Chad 3-2.
The Flames have never qualified for a World Cup and have appeared in just two Cup of Nations, but Football Association of Malawi (FAM) president Walter Nyamirandu Manda believes this match indicates a growing ambition.
"The trip is very important for us. We are taking the World Cup very seriously because we have ambitions to qualify for the global event for the first time ever," he said.
China's government has fully funded the trip, and highlights the close bond between the two nations. China, as they have in a growing number of African counties, will also construct a new stadium in Malawi.
The one setback, though, is that only local players will make the trip, as foreign-based talent will have club commitments.
Coach Kinnah Phiri said the tour was important for his team, which is in transition but hinted that he would have liked more friendlies so that local players could get more exposure.
"We should look at the rebuilding process, which means we are now relying mostly on local players, most of whom have no experience," he said. "They can only gain experience through these games."
Kinnah pointed to a previous tour, to Denmark, when only local players were used. The team played "three or four games", after which the Malawi coach noticed a huge improvement.
Malawi leave for China on 22 April. The friendly international will be played on 25 April and the team will be back home three days later.