Ally McCoist not dwelling on a Celtic title win at Ibrox
Last updated on .From the section Football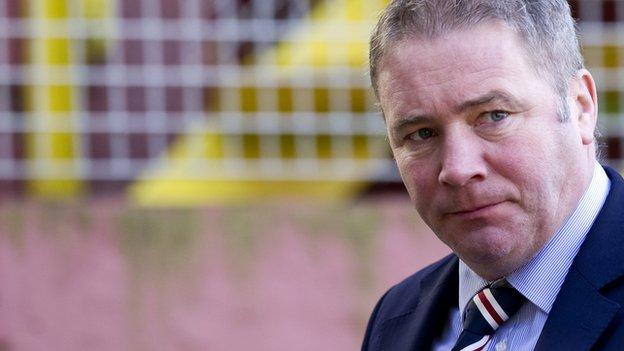 Rangers manager Ally McCoist will focus on his own club rather than the possibility of Celtic clinching the Scottish Premier League title at Ibrox.
"I'm not thinking about it. We'll start thinking about the game on Monday when the lads are back," he said.
McCoist added after a 2-1 loss to Dundee United: "I'm really disappointed that we didn't get anything."
Celtic can clinch the trophy in next Sunday's derby if Motherwell fail to beat Kilmarnock the previous day.
"I'm very disappointed," continued McCoist, who blooded some young players at Tannadice. "Looking back at the first half especially, I felt we certainly had the better chances.
"I think United had one wonder strike and it flew into the net. Apart from that, I don't think thery really troubled us.
"I felt that we didn't start well for the first 15 minutes of the second half.
"United got the goal - obviously at a really poor time for us - and, after that, I thought we woke up about 15 minutes into the second half and played well again for half an hour.
"I'm really disappointed that we didn't get anything from the game.
"I'm thrilled with some of the boys' performances. They've come into the team and we're asking them to do a very difficult job in extremely difficult circumstances. That is one of the big, big pluses."
McCoist is also happy that the possibilty of liquidation is receding daily at Ibrox as interested parties contact the club's adminstrator, Duff and Phelps.
"It's encouraging that there's been three or four parties interested in taking over the club," he said.
"Hopefully, we can get that organised and get a bit of stability back to the club, because that's what's lacking at the moment.
"I've met and spoken to two or three potential purchasers and I had a chat this morning with David Whitehouse of Duff and Phelps and he said there is one or two, possibly three, interested parties that are going to come in over the weekend which hopefully I'll have the opportunity to meet early next week.
"I'm not daft enough to think that the possibility of liquidation isn't still there, but I'm hopeful, more than anything, that it seems remote.
"We're not out the woods yet, not by a long shot, but I think there's probably been signs in the last four or five days in terms of potential purchasers that would indicate we can possibly avoid that."