Spurs offer 'support' to players after Fabrice Muamba collapse
Last updated on .From the section Football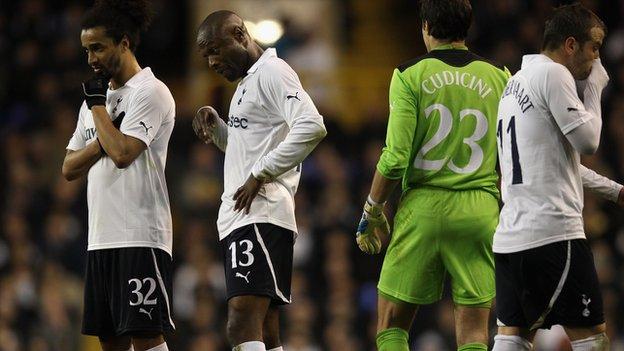 Harry Redknapp says Tottenham are offering advice and support to their players after Fabrice Muamba suffered a cardiac arrest at White Hart Lane.
Players from both sides were visibly distressed as medical staff tried to resuscitate the Bolton midfielder.
The 23-year-old is critically ill in the London Chest Hospital.
"We will be providing players with whatever support they need in order to help them move on from what has happened," said Spurs manager Redknapp.
"What happened to Fabrice Muamba was a shock to everyone.
"It is possible that the effects of this could hit some quicker than others and, despite these difficult circumstances, we all have to pull together and carry on with our season."
Redknapp said a cardiologist visited Spurs's training ground on Monday to offer routine heart screening to the players.
"We are able to offer any player who wishes to be tested for the purpose of reassurance an additional opportunity to be screened," said the 65-year-old.
Spurs attacking midfielder Rafael van der Vaart, who was standing around 10 metres away from Muamba when he collapsed, said the events during Saturday's abandoned FA Cup quarter-final tie were "incomprehensible".
"[It was] simply horrifying to see such a young player on the ground struggling for his life," the Dutchman told his official website.
"I didn't see him fall. But, when I turned, I immediately knew things weren't good.
"At that time all players on the field felt the panic as well. It was horrible to witness, it's the absolute low in my football career."
Team-mate Benoit Assou-Ekotto said seeing Muamba lying on the pitch was a "frightening event".
"I was scared because he was just like me," Assou-Ekotto told the London Evening Standard.
"He is young, supposedly fit - an athlete - who a few seconds ago was running up and down the same pitch as me.
"When we sat in the dressing room afterwards we spoke only of Fabrice."
Spurs have also confirmed their home Premier League fixture against Stoke City on Wednesday will go ahead as planned. Bolton's league meeting at Aston Villa on Tuesday has already been postponed.
A Bolton statement said: "The club would like to thank Aston Villa and the Premier League for their kind support and understanding at this time."
Villa said they had agreed to Bolton's request "without hesitation".
Bolton's next scheduled game is against Blackburn on Saturday at Reebok Stadium, although Rovers manager Steve Kean said on Monday he would be happy for the game to be postponed if Bolton "need a little more time".
"Whatever we have to do we would only respect what Bolton want us to do next weekend," said the Scot.
Bolton's reserve team fixture against West Bromwich Albion on Wednesday has also been postponed.