Bolton will be numb over Muamba - Folkestone boss Cugley
Last updated on .From the section Football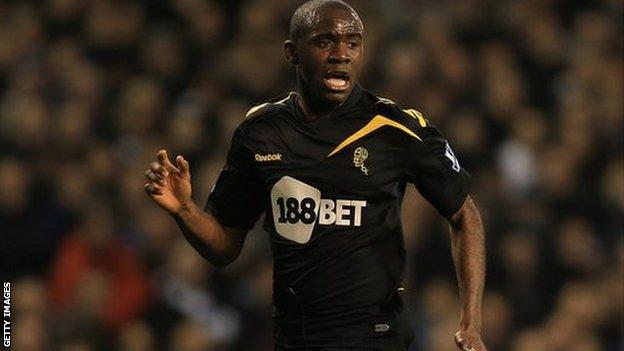 Folkestone Invicta manager Neil Cugley believes that Bolton's players will be "numb" following the collapse of Fabrice Muamba on Saturday.
He told BBC Radio Kent: "I had the misfortune of going to hospital when the death occurred. It's horrible."
"There won't be much said. Everybody will be numb for ages and ages. You don't wish that on anybody."
Sykes was just 28-years-old when he collapsed during Folkestone's Kent Senior Cup semi-final with Margate on 12 April, 2005.
Despite an ambulance arriving within minutes, he died at hospital. It was later discovered that he had a heart defect.
Cugley said that the quality and speed of treatment delivered to Muamba at White Hart Lane was a testament to health and safety at the highest level.
"When you're talking about a bigger club like Tottenham, you've got a lot more people and also the great thing of the hospitals being so close to the ground as well."
Cugley added that the similarity between events in the 41st minute of Bolton's FA Cup tie with Tottenham and Sykes' passing brought the sad memories back.
"It was very similar," he said. "The ball wasn't anywhere near Paul Sykes and he collapsed.
"We phoned the ambulance and they were there in excellent timing. You couldn't ask for more."
Muamba is currently in a critical condition at the London Chest Hospital's heart attack centre.