What's the prognosis for the clubs on football's sick list?
By Matt Slater
BBC sports news reporter
Last updated on .From the section Football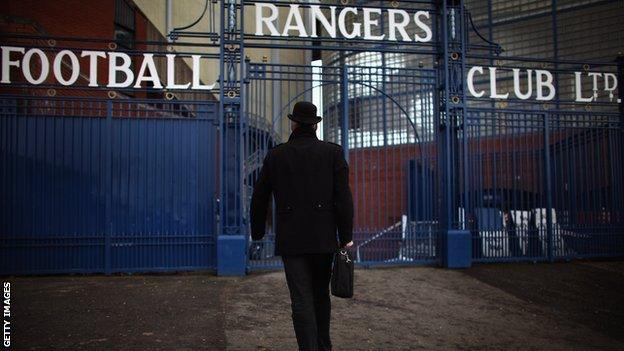 There was a single day earlier this month when two Championship clubs were banned from signing players because of financial irregularities, Port Vale confirmed they would go into administration and Portsmouth's administrator suggested the club might not get out of administration.
Oh, and then there was Rangers.
After a fortnight of headlines from Fratton Park, Ibrox, Vale Park and elsewhere, here is your cut-out-and-throw-away guide to football's current "insolvency events".
Port Vale
The Valiants after a month of thinking about who would pay the administrator fees.
Stoke-on-Trent City Council eventually took the hit but it was probably the right result as the council is on the hook for the biggest loss, a sum close to £1.9m. A cynic might add that liquidated football teams do not play well come election time.
The council's entanglement with Port Vale goes back to 2006 when it loaned the club £2.25m at a reasonable rate over 20 years. Not an onerous burden for a well-run club, but clearly too much for Vale.
After a relatively successful 1990s, they were relegated to the third tier in 2000 but failed to rebalance the books. Administration followed two years later. What emerged was a fan-backed consortium with good intentions but too many factions and not enough money.
Thanks to the council and another £240,000 from famous fan Robbie Williams, the club bumped along for a few years only to get relegated again and finally collapse a week or so ago.
This brought Bob Young of Begbies Traynor back for his second rescue act in less than a decade, only this time he brought the firm's football heavyweight, Gerald Krasner, with him.
Krasner is best known for his valiant (no pun intended) effort to save Leeds United from ruin. He failed but perhaps lessons have been learned. Within a few days of getting his hands on the books, Krasner announced the club had solid foundations, great supporters and plenty of suitors.
Things have rattled on at such a pace that he is now confident of wrapping up the bidding process this week and getting the all-important pence-in-the-pound deal with creditors signed off by April. It will be the perfect administration if true.
Portsmouth
Pompey know the way to Companies Court, too, this being their third helping of insolvency since 1999.
I am going to take it as read that you know something of the Portsmouth story: the sugar daddy, the fantasy football team, the FA Cup, AC Milan at Fratton Park, the mother of all hangovers.
Their last administration in 2010 - the Premier League's first - was bad enough. That it should happen again so soon afterwards is either unfortunate or disgraceful, depending on your point of view.
The latter was certainly the opinion of HM Revenue and Customs (HMRC) last month when it forced the club to seek bankruptcy protection over a new £2m tax bill and then demanded its choice of administrator.
After a lively court debate, HMRC got its man, Trevor Birch, a former footballer turned financial fireman.
Unlike the calm commentary from Krasner, Birch has made no secret of his shock at just how bad the books are - a dozen players earning more than £600,000 a year and one earning three times that with more than a year to go on his contract - and has said nothing about bidders queuing around the block.
And why would they? The last owner but one is owed £17m (and he has a claim for an additional £10m on the last owner, who is fighting extradition to Lithuania for fraud), and the last owner but four gets a big chunk of the next four lots of Premier League parachute money.
This is Sacha Gaydamak, the son of a prominent Israeli businessman who funded the fun years but is now a party pooper with strips of "redevelopment land" around Fratton Park that keep him locked in a loveless union with his former fancy.
So Birch has his work cut out, particularly as the team look destined for League One.
"Why waste people's time with false statements about how great a bargain this club is?" Birch told me. "There is a fantastic club here - and it can be picked up again - but I am working every hour of the day just to get it to a position where it is worth saving."
Rangers
If the administrator's glass is half full at Port Vale and half empty at Pompey, it is sometimes hard to tell if the administrators even have a glass at Rangers. In fact, it is hard to tell if they are even administrators.
At the time of writing, the experts from Duff and Phelps (D&P) are heading to court to explain how they botched the process of putting the Old Firm giants into administration last month and why they should be allowed another chance to do so.
The mistake they made on that remarkable Valentine's Day was to forget to ask the UK's banking regulator, the Financial Services Authority (FSA), if it minded Rangers being placed in D&P's emergency care.
FSA approval is not a typical requirement because few football clubs ever come under the financial watchdog's auspices. But Rangers did when they toyed with the idea of issuing a credit card in 2008, an idea they dropped and then forgot about, apparently.
All very embarrassing, particularly in a week when the administrators had been hoping for some respite after a bruising start to their rescue mission.
The erstwhile joint administrators, Paul Clark and David Whitehouse, might have temporarily become interim managers as a result but their powers were basically the same, as were their responsibilities.
While the FSA snafu was a storm in a teacup, it did reveal two problems facing Clark and Whitehouse as they try to save a British cultural institution and global sports brand: one, they have no football experience; and two, they work for an American-owned firm based in England.
Taking that second point first, a clerical error like failing to check whether a company is FSA-registered can often be dealt with quickly and quietly by English judges. That is not the case north of the border.
The interim managers have also experienced some hairy moments with Scottish contempt of court laws, which are slightly different to the English ones. No harm has been done but you wonder whether they should be learning this stuff on such a high-profile job.
Not knowing the Scottish scene as instinctively as a local firm has had another effect that has been compounded by this being D&P's first football administration: the intense interest in their every move has, at times, mangled the message.
Knowing that they were perceived to be in the pocket of the club's controversial owner Craig Whyte, Clark and Whitehouse have gone to great lengths to prove their independence.
There is one other point worth making about D&P's outsider status, however: no Scottish firms wanted the work because they feared for their windows.
And that should tell you everything you need to know about which of the current administrations in British football will be the hardest to resolve successfully.
For more on the unfolding situation at Rangers you can listen to a BBC Radio 5 live Sport debate on Monday, live from Glasgow's Pearce Institute, 1900-2100 GMT.