Fabrice Muamba: Kevin Davies says FA Cup is irrelevant
Last updated on .From the section Football
Bolton captain Kevin Davies says talk about the club withdrawing from the FA Cup is "irrelevant" as everybody is focused on Fabrice Muamba's health.
There have been suggestions the club may pull out of the cup as players are too upset to return to White Hart Lane.
But Davies told BBC Radio Manchester: "We've been asked that question and I think it's all still irrelevant."
He added: "Until we get more information about Fabrice's condition, I don't think anything really matters.
"I know they were keen to get the game off tomorrow night [against Aston Villa], which is a no-brainer. From then on, we don't really know as players. It's all about Fabrice and his family really. The football side just doesn't come into our thoughts."
The FA Cup sixth-round match was abandoned after 41 minutes on Saturday when Muamba collapsed on the pitch with no-one around him.
Davies says he has been speaking with manager Owen Coyle and chairman Phil Gartside - and that the club will decide whether to continue in the FA Cup "in the next couple of days".
The forward added: "We all love Fabrice. I respect him hugely for where he has come from to where he is now."
Davies has been in regular contact with the doctor and Coyle and has been passing news back to his team-mates.
Coyle said: "The support from within the game has been fantastic. We all saw the pictures from round the world.
"When you see the players of Real Madrid and Gary Cahill, wearing T-shirts, and David Beckham sending over a message, that shows you the opinion they have of Fabrice as a man.
"It's great to be talented, at whatever vocation you are in, but it is more important to be genuinely nice and humble, which Fabrice is."
Muamba started his career at Arsenal and their manager Arsene Wenger said: "You pray that the damage will be repaired and that Fabrice will come out healthy and we will see his smile again. Everyone at Arsenal has huge respect for Fabrice."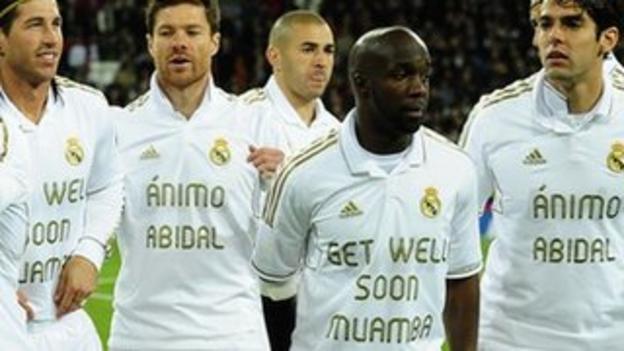 Bolton's Premier League game against Aston Villa on Tuesday has already been postponed.
Blackburn are due to play Bolton at Reebok Stadium on Saturday but Rovers manager Steve Kean is happy for the match to be put off if Wanderers feel they are not ready to play.
Kean said: "We hope he makes a full recovery but, if they need a little bit more time and the game doesn't go ahead, we would respect that from Bolton's point of view."
There has been support from supporters nationwide, but Davies thinks it reflects the "sad state of the game" that it has taken an incident such as this to bring fans together.
He added: "The last couple of nights have been mixed emotions - it is the first time in 19 years that I've seen a football stadium unite.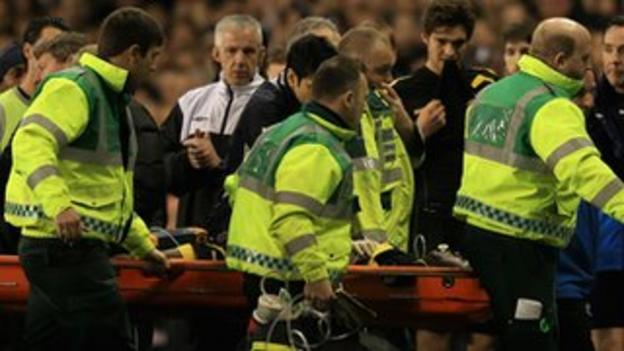 "It was both touching but sad as well. We put a lot of hours in as footballers and it seems that the only way you get applause from opposition fans is being carried off on a stretcher. That's a sad state of the game.
"We are all fans of football. I look at other sports and there is no segregation. I'd love to see more of that football."
Recalling Muamba's collapse, Davies said: "It all became very serious in a matter of seconds and we all knew there was something seriously wrong. It was not nice. You feel powerless. He's one of your colleagues, one of your friends, he's a father, he's a son.
"I just want to say, on behalf of the family and the club, a big thank you to everyone who was on the scene - the paramedics and our own medical staff."