Ghana finally axe Black Stars coach Stevanovic
By Michael Oti Adjei
BBC Sport, Accra
Last updated on .From the section Football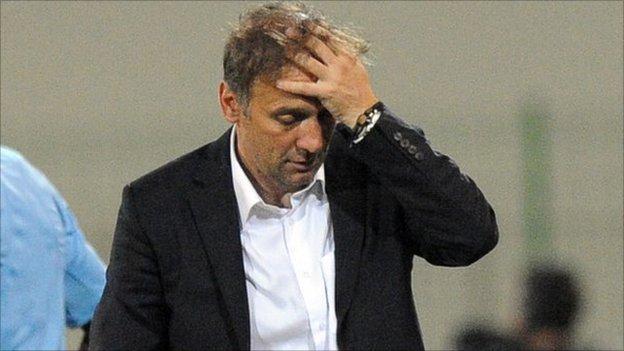 Ghana's Football Association has fired Black Stars coach Goran Stevanovic.
After plenty of delay and deliberation, the Ghanaian FA (GFA) eventually chose to dismiss the Serb with ten months left on his contract.
His downfall came after losing the 2012 Nations Cup semi-final to Zambia, the sole competitive defeat his side suffered during his reign.
"I asked one question - if there is any chance I can stay - and they answered no," he told BBC Sport.
Stevanovic's assistant, Kwesi Appiah, has been asked to take interim control of the team until a permanent coach is found, the GFA said.
"We would like to express our gratitude to the general public for their concerns about the national team and their patience so far," GFA president Kwesi Nyantakyi said in a statement.
Stevanovic was appointed in January 2011, pledging to win an Africa Cup of Nations during his time in charge.
He says he was told his services were no longer required when meeting the GFA in Accra on Friday, and that point was reiterated to him on Monday when he met the GFA in the company of his lawyer.
"I am sure that I did my job honestly and with big motivation, and for that I will be calm and negotiate with the GFA," the saddened Serb told BBC Sport.
"They are good people and I want to have a good relationship with everybody."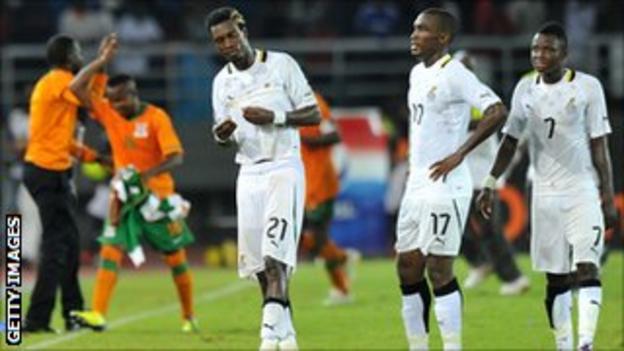 During his 14-month spell, Stevanovic steered the Black Stars through an unbeaten qualification run for this year's Nations Cup in Equatorial Guinea and Gabon.
However, the failure to win the tournament - as the Black Stars finished fourth - proved his biggest undoing and the former Partizan Belgrade boss expressed his surprise over being sacked for that.
"I am surprised because I think that reaching the semi-finals is not a bad result," the 45-year-old said.
"Everybody knows that our loss against Zambia was the first in a competitive game.
"I remember the Brazil game, England game and they were all very good games. In football there is a lot of stress and it is unpredictable. I am more surprised, I am not disappointed. It is normal in our lives."
During the Serb's reign, the Black Stars secured a historic 1-1 draw against England at Wembley before narrowly losing another friendly to Brazil as the five-time world champions won 1-0.
However, last month's 1-0 defeat to Zambia in Bata proved the coach's undoing as the GFA displayed its ruthless streak after a month of meetings.
Stevanovic will meet the GFA once again on Friday, for another meeting on a compensation package with almost a year still left on his contract.