Crewe manager Steve Davis calls for more heart checks
Last updated on .From the section Football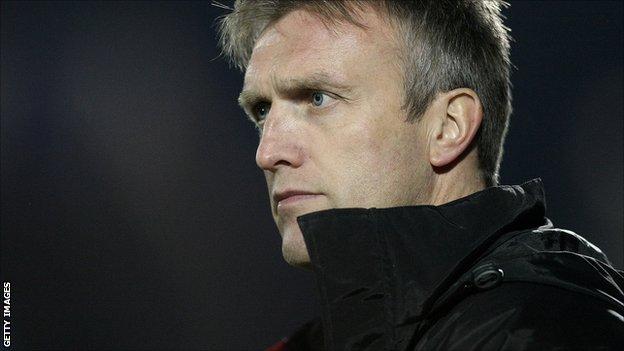 Crewe manager Steve Davis has called for more money to be invested in checking players for heart conditions, particularly at lower levels.
Davis told BBC Radio Stoke that many clubs cannot afford to carry out checks on their players often enough.
"At our level, I don't know where the money would come from," he said.
"At Premier League level, it should be high on their list of priorities that they regularly screen their players to see whether there's any abnormality in their heart.
"It's difficult to assess because of the amount of work that they do on the pitch.
"They're pushing their bodies to the limit and sometimes the body can react to that and, on this occasion, it has done.
"Whilst I think it (checking for heart conditions) is something that should be done, from a financial point of view, it's very difficult to do."
Crewe have developed a high reputation of producing quality players through their youth academy and Davis said every effort is made to check on the health of their young professionals.
"We try to do a screening with them when they're 16," added the Alex boss. "But those checks probably aren't regular enough because of the amount of money that they cost to have.
"Your body changes over the years and we have to monitor that."
Fellow players and former team-mates have been among those offering their support to Muamba in his fight for life.
"You have these rivalries on the pitch, but as soon as we're off the pitch, we're all professionals and we're all trying to make a living," said Davis.
"Everyone has been affected by what happened to Muamba. We wish him well and we hope he makes a recovery."