Bristol Rovers' Scott Bevan discusses 'most difficult' season
Last updated on .From the section Football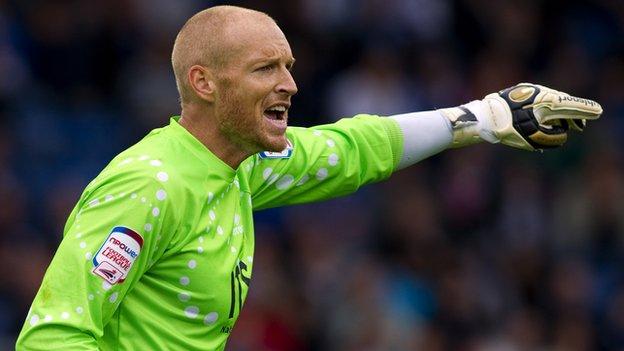 Bristol Rovers keeper Scott Bevan says that the current season has been the most challenging of his 15-year career.
Bevan, 32, missed six weeks of action at the turn of the year through injury, having conceded 55 goals in 28 games during the first half of the campaign.
"It's probably been the most difficult playing season of my career," he told BBC Radio Bristol.
"It was upsetting to miss as many games as I did. I missed a large chunk of the season over a month or so."
He continued: "Goalkeepers are judged on clean sheets and for the first 20 games of the season we couldn't buy one. I've never conceded so many goals in my life and it did get to me big time."
Since returning to action in a narrow win over Rotherham at the end of February, Bevan is feeling confident ahead of the season run-in.
"I've been back for five games now and got three clean sheets and I just want to keep that going. We're going into games now feeling that we can grind out a 1-0 win.
"After coming to Bristol with all the expectations that were around, the first part of the season hadn't worked out for me. The last five games I've been back I've felt a lot more confident in there.
"I want to finish the season off on a positive note and go into the summer, rest, recuperate and come back for next season all fresh and ready to go."
With his side facing fellow relegation-strugglers Plymouth on Tuesday, Bevan is hoping to bury some personal demons after his late error lead to defeat in their previous meeting.
"It was a last-minute goal kick and I choked it and they broke through and scored. It was one of the lowest moments of the season so far for myself, so we've got a few wrongs to put right there."