Paolo di Canio says Swindon fans should not criticise him
Last updated on .From the section Football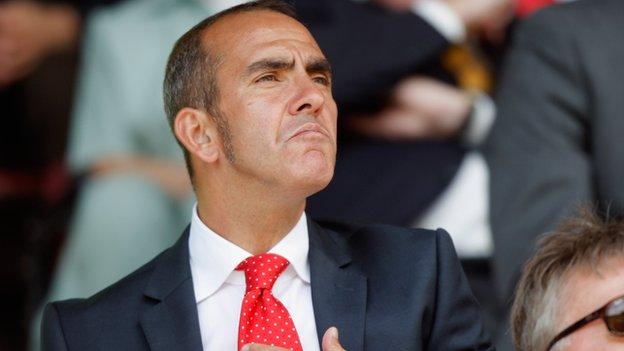 Paolo di Canio has said that concerned Swindon Town fans should trust in his ability and that he would be hard to replace if he should leave the club.
"I am the manager and they are the fans," he told BBC Wiltshire.
"They should hope that I am the manager in the future because it's difficult to find another manager like me."
Di Canio continued: "There are always some silly fans, probably the same fans that didn't want Paolo di Canio, who after three defeats they said 'we told you that he is not a good manager'.
"Now they have waited for our first defeat. Maybe when we finish at the top they say we should finish with 130 points.
"I'm not worried about this because I am too strong, too good, too intelligent, but I want to say to the others 'don't follow the stupid'."
Di Canio added that the vast majority of the fans were supportive of the team, but he remains annoyed that there are a small group who are criticising his decisions.
"There is some intelligence from the fans," he added. "It's obvious that 99% of the fans are intelligent; they follow us. They don't start to be snobby and maybe judge us after one game.
"They can comment and say they prefer this player or that player, but they don't judge like they are a manager at the top level.
"Ninety-five per cent of fans are amazing because they love this club, but there are a small number of fans who criticise in a silly, pathetic way."