Are Man City about to relive the Newcastle collapse of 1996?
By Jimmy Smallwood
BBC Sport
Last updated on .From the section Football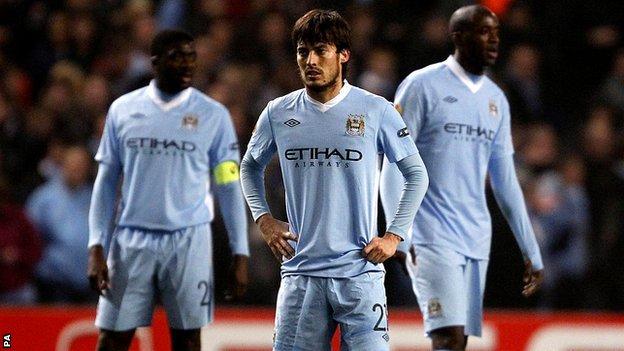 Just under a year ago, 1,000 football fans voted Kevin Keegan's famous "I will love it if we beat them" rant as the most popular public managerial loss of temper in Premier League history.
No such colourful behaviour yet from Manchester City boss Roberto Mancini, but the Italian will be feeling the same stresses Keegan endured during his Newcastle side's loss of form towards the end of the 1995-96 season.
City are second in the Premier League behind league leaders, and Keegan's tormentors, Manchester United, despite at one time leading by seven points.
United's ability to put together title-sealing runs of form seems to have been replicated again this season. Sir Alex Ferguson's men have collected 25 league points out of a possible 27 since mid-January, the only draw being the thrilling 3-3 comeback when 3-0 down against Chelsea at Stamford Bridge.
In contrast, recent form makes somewhat grim reading for City. Since a 0-0 draw away to West Bromwich Albion on Boxing Day, they have suffered defeats to Sunderland, Manchester United, Everton and Swansea.
On Wednesday, City host a somewhat resurgent Chelsea side since knocking Napoli out of the Champions League.
Mancini's men start the evening a full four points behind Manchester United, although they do have a game in hand.
So what can City learn from history?
In February 1996, Newcastle led the Premiership by 12 points. Three months later, an indifferent run of results coupled with a concerted Manchester United push saw the Red Devils steal it.
Former England international Rob Lee still confesses to painful memories of the 1996 title chase.
"I remember it well. I try not to," Lee told BBC Sport.
"We had been in very good form, right up until Christmas. Everyone just presumed the title race was over.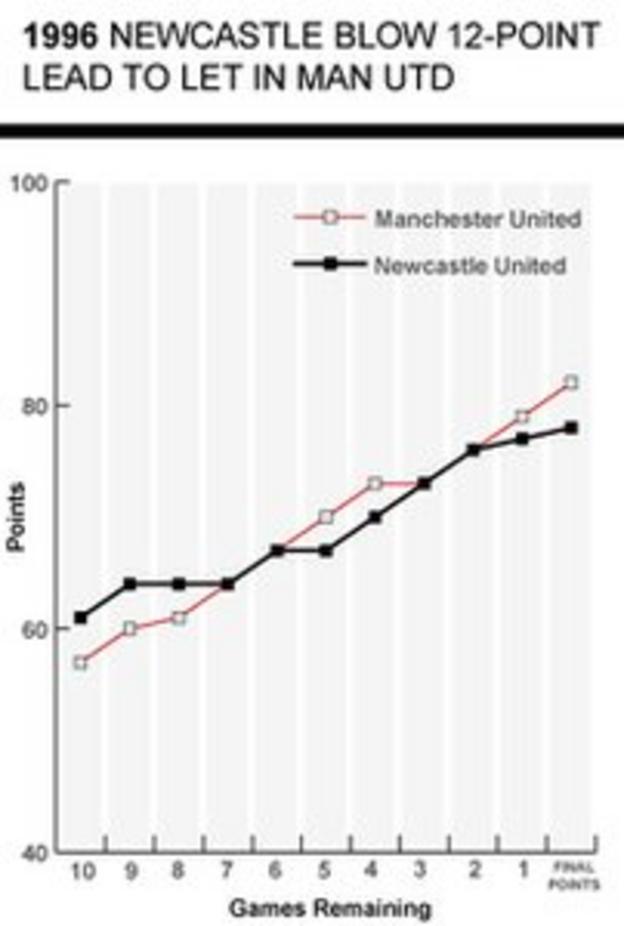 "We had a lot of pace and had some fantastic players who could score plenty.
"We weren't great at the back as everybody knew. We let goals in but we knew we could score more than other people."
Lee is clear that confidence played a huge role in the swashbuckling style of Keegan's side. When it worked, it really worked, and the players fed off mutual success and enjoyment of playing his form of football.
"There's no better feeling in sport than going into training having played well and won on Saturday," said Lee.
"The fans were happy, the manager was happy and the players were all buzzing.
"Confidence breeds confidence, and it's the same if you're losing - a losing side just carries it on, and you feel you can't get out of it.
"I think Manchester City are very similar. In the first half of this season they scored loads of goals and attacked a lot. They're in a bit of a slump at the moment, and Manchester United are absolutely relentless."
It was that relentlessness that ate away at the Newcastle lead in 1996, as Manchester United won 13 of their final 15 league fixtures to claim the title by four points.
Galvanised by the return after a nine-month suspension of 28-year-old Eric Cantona, United secured a succession of narrow victories that fatally undermined Newcastle's confidence.
"Manchester United didn't win games like we did. We were winning 4-3 and 3-2. We looked at the scores and United were winning 1-0 every week.
"They just keep nicking results. Look at their Norwich result the other week. They're relentless and keep going to the very end."
In fact, one myth about the Newcastle side of the mid-90s is that they scored freely and at will.
They netted fewer than table-topping Manchester United and third-placed Liverpool, and only marginally more than Everton and Blackburn.
In an attempt to bolster his attacking options in February 1996, Keegan recruited Colombian forward Faustino Asprilla for £6.7m from Italian side Parma. Although "Tino" made an instant impact with his attacking style, many pointed to his introduction as undermining a previously well-balanced side.
It is an intriguing coincidence that Man City, whose goals have also rather dried up, are turning to a South American forward of their own to try to reverse their recent decline.
For Lee, recalling Carlos Tevez for the remainder of the title push is almost a no-brainer.
"Tevez is a world-class player. If his attitude is correct then there is no problem. If I was Man City manager I would use every resource to try to win that league title.
"At the start of the season I said that Man City would win the league. I still have a strange feeling that they will. They have such a strong squad, with an abundance of players.
"City, in their favour, have that huge derby game ahead of them," Lee continued. "They know it's at home and they know they can win it.
"City have to beat Chelsea and they have to stay within two or three points of United. Then that game takes on a massive significance."
The Manchester derby is at Etihad Stadium, and although City fans may take some comfort in that home advantage, again Newcastle's experience in 1996 provides a warning from history.
In an open game on Tyneside, a solitary Cantona strike in front of over 36,000 supporters sealed three points for the visitors. But as Rob Lee recalls, the result meant so much more than that.
"That did for us," reflected Lee.
"At St James' Park we played them off the park. Peter Schmeichel was unbelievable for them in goal, and you didn't see Eric Cantona all game until he scored with probably his only kick.
"They beat us, and that was a major blow. Even if we had drawn that game I think we would have gone on to win the title."
For Manchester City to remain within touching distance before the derby, upcoming league fixtures against the likes of Stoke, Sunderland, West Brom and Wolves take on enormous importance.
That is, of course, if the wisdom that Manchester United will barely falter proves true. History does provide one more encouraging example for City fans.
In the first week of March 1998, United were 11 points clear of Arsenal, although the Gunners had two games in hand. A subsequent United slump coupled with a 10-game Arsenal winning streak delivered the Premier League trophy to Highbury before the season was over.
Whatever City can muster this season, fans and players ought to heed the words of Lee, whose sense of loss and frustration at his side's inability to seal the deal in 1996 is still palpable.
"You don't realise at the time that we could have made history," Lee admitted.
"We would have been in Geordie folklore for many, many years. As players we presumed we would come back the next season and we'd still be fighting for the title. But that never happened.
"When you're in the midst of it all you don't realise, but now I'm older I look back at it and think we had a great opportunity to become legends.
"That's the biggest regret of my career," says Lee. "I wish we had won it."