Jayden Stockley ready to fulfill Bournemouth promise
Last updated on .From the section Football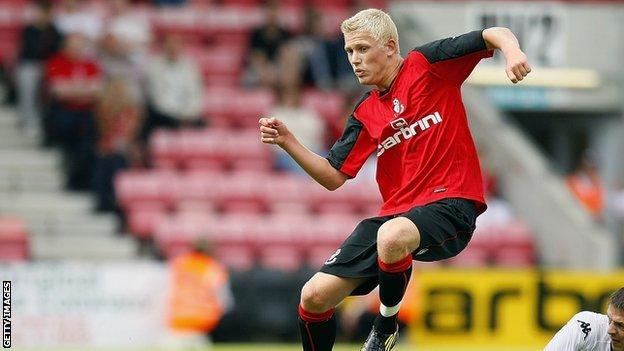 Teenage striker Jayden Stockley believes he is ready to fulfill the promise that prompted Bournemouth to award him a five-year contract.
Stockley was just 15 when he made his debut for the Cherries in 2009.
The Poole-born forward has since found it hard to establish himself at the Seward Stadium but is now confident he is ready to become a regular starter.
He told BBC Radio Solent: "Every player has to be confident and I'm at the stage when I want to start games."
A successful recent loan spell at League Two Accrington Stanley has given Stockley the confidence to press his claims with Bournemouth manager Lee Bradbury.
The 18-year-old, who scored three goals in five starts at Accrington, said: "I think I needed to go and get experience elsewhere to benefit me at Bournemouth, and I've done that up north at Accrington.
"The minutes I played, the goals I scored, everything was beneficial and it's stood me in good stead for the rest of the season here.
"Everyone thought I would push on in the first couple of years [after signing the five-year deal] but it was there to help me progress as a player and come strong in the last couple of years of the contract.
"I've had to grow, mentally and physically, into a target-man role."
Stockley, who admits he was daunted by the stadia and supporters as a 15-year-old, paid tribute to the work done by former Bournemouth manager Eddie Howe, as well as the guidance he is receiving from Bradbury and assistant Steve Fletcher, both of whom have huge experience in leading the attack.
"'Fletch and the gaffer have so many tips and I've learned so much from them," said Stockley, who has been used as a substitute by Bradbury in Bournemouth's last four matches.