Samba upset by racism happening "in view of children"
Last updated on .From the section Football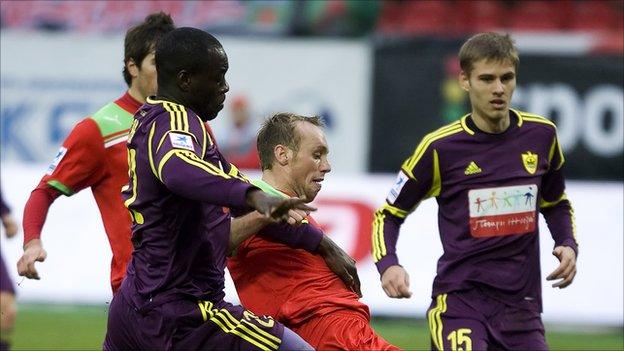 Russian club Anzhi Makhachkala have called on Lokomotiv Moscow to identify the fan who threw a banana at Congo's Christopher Samba on Sunday.
The incident, which Anzhi have described as "idiotic", took place in Moscow as the hosts won 1-0.
"We are assured that representatives of ... Lokomotiv will settle this issue and the guilty will be identified and punished," Anzhi said in a statement.
Samba said he was saddened by the incident happening close to children.
Lokomotiv have said they will publish findings of their investigation into the incident on their official website, while the Russian Football Union (RFU) has also launched its own investigation.
"The incident with Samba was simply outrageous and I've instructed our ethics committee to look into this," RFU chief Sergei Fursenko told reporters.
"I'm very upset that such misconduct took place in view of children who were sitting on those very stands," former Blackburn Rovers player Samba told Anzhi's official website.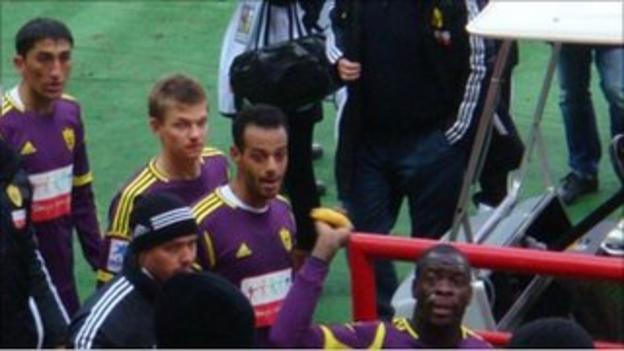 "It can serve as a bad example for them. I try not to think about racism. I just want to believe that such problems do not exist on a global basis. Maybe I am mistaken but I do want to believe in it.
"As a rule any scandal of this kind is a result of a misconduct committed by one silly person. I don't want to react to this."
Samba joined Anzhi from Blackburn Rovers in late February and was playing only his third league game for the club.
The BBC's Rafael Saakov in Moscow says that the All-Russian Supporters' Union has expressed its "appreciation" for Samba's words on how this was an "individual act" and how he didn't "inflate this story to the scale of the universe".
Lokomotiv, who initially rejected the accusations of racism, says the club is investigating the incident with the help of video evidence.
"The club's Security Department is currently studying the videos and is collecting the comments of eyewitnesses of the incident," Lokomotiv said in a statement.
"So far, video reports viewed by the club members don't give a clear picture of what has happened."
"We would also like to note that Lokomotiv fans are among the most intelligent in the Premier League and have never been noticed in racist abuse."
Nonetheless, fans of the club attracted unwanted attention in 2010 when hoisting a banner displaying a banana and the words 'Thanks West Brom' after Nigeria's Osaze Odemwingie was sold to the English side.
Shortly afterwards, RFU officials denied the actions had racial undertones.
"In Russia 'to get a banana' means 'to fail a test somewhere'," said then director general Alexei Sorokin.
Sorokin is now the CEO of the Organising Committee for Russia's hosting of the 2018 World Cup, a Fifa move which received criticism in some quarters because of the country's track record with racism.
Last year, another Anzhi player, 38-year-old Brazilian veteran Roberto Carlos, was twice the victim of banana attacks at Saint Petersburg and Samara.