Cardiff's Stephen McPhail grateful for Venus Williams' advice
Last updated on .From the section Football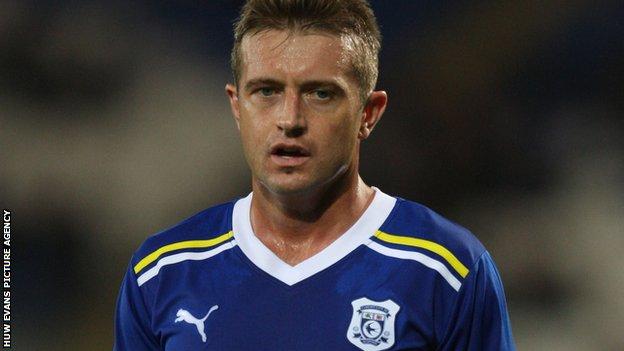 Cardiff City midfielder Stephen McPhail has hailed tennis star Venus Williams for helping in his battle against an incurable immune system disease.
The former Republic of Ireland international has made just four league starts this season due to the the ill-effects of Sjogren's Syndrome.
Five-time Wimbledon champion Williams suffers from the autoimmune disease and has offered advice to the 32-year-old.
"I was lucky to get some good advice from her," said McPhail.
"I contacted Venus Williams about a month ago and she rang the house, which was a bit of a shock being such superstar.
"She's a lovely woman and made me feel really at ease. She exchanged stories on how she is dealing with the syndrome and I got some great advice.
"She hasn't played since she has been diagnosed but I think she is on the road to recovery.
"It'll be great to see her back as she is such a legend of the game and everyone wants to see her play tennis again."
Former world number one and eight-time Grand Slam winner Williams sought the guidance of Sjogren's Syndrome specialist Dr Daniel Wallace at his surgery in Los Angeles.
McPhail, diagnosed in 2009, has also flown to California for treatment and advice from Dr Wallace on a disease where the body attacks its own moisture-producing glands, such as the tear and salivary glands.
The popular Cardiff stalwart revealed he almost quit football because of his "frustrating nightmare" before undergoing treatment in the United States.
"There is no cure for it," said McPhail.
"I've an immune disease that a lot of people have. I get dry eyes, a dry month, fatigue and my joints swell up and every part of your body seems to be affected.
"The frustrating part is you get to a stage where you need to be, then you break down again.
"But it is not that well documented in athletes so it is about getting the right medication and try to get the formula to be able to play week in week out which has been difficult.
"I tried every medication and every doctor but nothing was working for me.
"It was a bit of a low point and a lot of times I thought enough is enough, I can't deal with this anymore but luckily enough I got in touch with the right people and can see light at the end of the tunnel.
"I feel confident now after a good trip to the US to see the main specialist on the condition in the world.
"It was nice to speak to someone who knew the ins and outs of what was going on and he had some interesting things to say on how I was able to play and cope with it.
"He has put me at ease of what is going on and he has given me some treatment which I have started.
"The treatment seems to be working but I have to keep the treatment up, have more treatment in six months time and more six months after that. I will have the treatment for the next couple of years.
"You don't know how you'll feel until you wake up so I have taken things day to day but this treatment can slow the condition down to an 80% chance and that has given me a bit of hope.
"Mentally I'm stronger and I have been told I can play a lot more for years to come now I have got my head around what I have to deal with."
Williams hasn't played since the US Open in August but is due to return at the Sony Ericsson Open in Miami which starts on Tuesday.
And having spoken with Williams, McPhail is determined to play his part in Cardiff's Championship play-off push starting against Coventry City on Wednesday.