DR Congo FA offers support to Kinshasa-born Muamba
Last updated on .From the section Football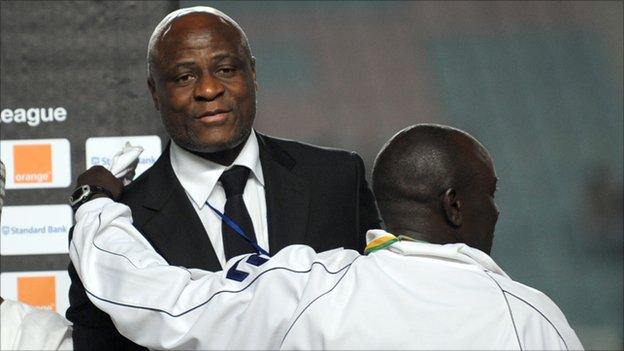 Kinshasa-born Fabrice Muamba has the "support and prayers of 65 million Congolese" as he recovers from cardiac arrest, says the country's FA.
The Bolton Wanderers midfielder is eligible to play for the Democratic Republic of Congo, despite representing England at youth level.
"We wish God to help him recover so that he can continue playing football," said FA boss Constant Omari Selemani.
"With our message, he has the support and prayers of 65 million Congolese."
"We hope God will positively answer our prayers and that he'll be back on the pitch very soon," he told BBC Sport.
The 23-year-old is critically ill after suffering a cardiac arrest during Saturday's FA Cup tie at Tottenham Hotspur.
On Monday, it was reported that he is "showing small signs of improvement".
Muamba left DR Congo as a refugee at the age of 11, after his father Marcel fled the country years earlier after the government he was working for was toppled by the father of current president Laurent-Desire Kabila.
In the past, Muamba has rejected attempts by the Congolese FA to call him up, telling reporters that a lack of confidence in his homeland's intentions underpinned his decision.
Nonetheless, Selemani has assured him that all the country's citizens are rallying behind his recovery.
"I was watching the match on TV and witnessed how he collapsed," he explained.
"On behalf of the Congolese FA, all the Congolese people and myself included, I would like to express our sympathy to Fabrice Muamba, who is from the Congolese origin and assure him that all the Congolese people are following closely his situation.
"We know he is going through a difficult moment."
Despite his Congolese roots, Muamba has won 33 caps at Under-21 level for England, whom he represented at last year's European Under-21 Championship in Denmark.