Gordon Smith tells of Craig Whyte Champions League exit 'panic'
Last updated on .From the section Football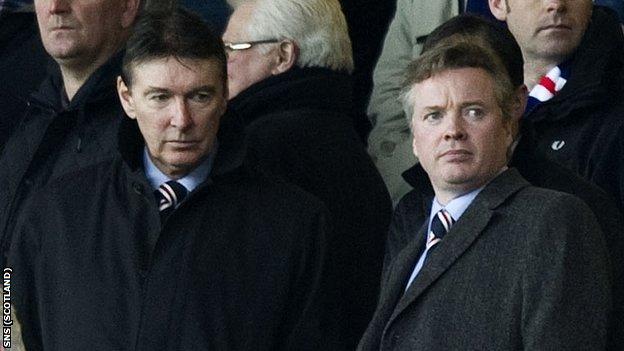 Former Rangers director of football Gordon Smith says club owner Craig Whyte panicked following the team's Champions League exit in August.
An aggregate defeat by qualifying opponents Malmo meant Rangers missed out on a third successive year of group stage involvement.
And Smith indicated this had contributed to the club eventually going into administration.
"It looked like there was a dependency on being in the group stages," he said.
"I suddenly noticed when we went out the Champions League, there was a panic that came in from the owner that this was going to be a tough year because of it.
"The income this year is about £35m, the outgoings are about £43m. In the previous two seasons, Rangers won the league and qualified for the Champions League [group stages].
"The income from going automatically into the Champions League [group stages] went up from about £40m to £56m and then £52m.
"In both those seasons Rangers made a profit. That's why, at that time, the people who were in charge of Rangers were able to pay off some of the debt. The debt came down from about £23-24m to £18m.
"If you don't get that [Champions League money], the income doesn't match the outgoings."
Gordon Smith was speaking on BBC Radio 5 live's "Rangers - What Next?" Dowload the podcast