Jacob Mellis leaves Chelsea after smoke grenade prank
Last updated on .From the section Football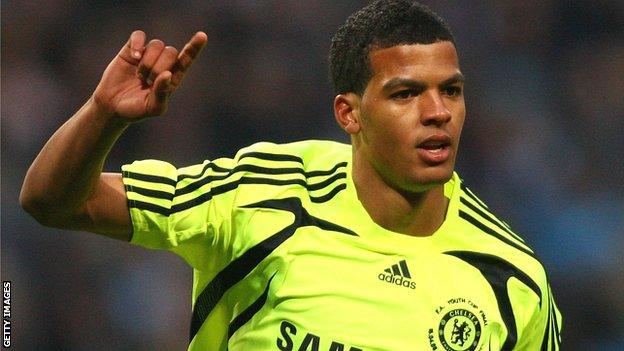 Chelsea have parted company with midfielder Jacob Mellis after he admitted setting off a smoke grenade at the club's Cobham training ground.
Mellis, 21, was released after a "full and thorough" investigation into the incident, which took place on 2 March.
Team-mate Billy Clifford, 19, admitted bringing in the grenade and was fined.
Last February Ashley Cole avoided punishment after a police investigation when he accidentally shot a work experience student with an air rifle.
Another dubious incident at the Chelsea training ground occurred late last year when a knife was discovered by cleaning staff in a dressing room at the complex, although this was thought to have belonged to a building contractor on the site.
Mellis joined Chelsea from Sheffield United five years ago and made his debut in the Champions League win against Zilina in November 2010.
Clifford, 19, is a regular in Chelsea's reserves and signed a new four-year deal last summer.
He is thought to have acquired the item in question from a paintball expedition.
According to reports, the smoke grenade was set off in the reserve-team dressing room and trained fire marshals had to be brought in.
Players, officials and other staff from Chelsea's reserve, youth and academy teams ran from the building with hands covering their faces because of the thick smoke.
Owner Roman Abramovich was reportedly briefed about the incident, which set off fire alarms and triggered a full evacuation procedure.
Meanwhile Chelsea reserve goalkeeper Hilario has signed a one-year contract extension.
The 36-year-old Portuguese, who also signed a one-year extension last summer, joined the Blues from Nacional in 2006 and has made a total of 39 appearances, keeping 18 clean sheets.