Roberto Mancini 'will put job at risk by picking Carlos Tevez'
Last updated on .From the section Football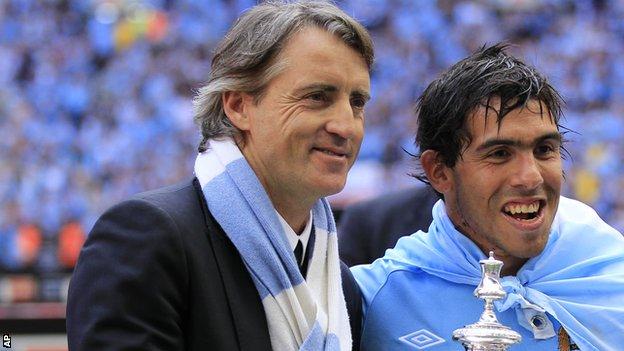 Rodney Marsh has warned Manchester City manager Roberto Mancini that selecting Carlos Tevez could get him sacked.
But ex-City player Marsh said: "Mancini will be sacked if Tevez plays and City don't win the title.
"I believe strongly that, if Chelsea win tonight, City won't win the title."
On Tuesday, Mancini said it was "possible" the 28-year-old would be on the bench for the Chelsea game, with City four points behind leaders Manchester United.
Marsh told BBC Radio 5 Live: "At this moment in time they have got a fantastic squad of players - [Sergio] Aguero, [Mario] Balotelli and [Edin] Dzeko up front, [David] Silva and [Samir] Nasri.
"If he should change it and bring in Tevez and they lose it I think it will be that important.
"If they should also lose the Premier League based on the fact he is coming back I think that is a bridge too far."
Marsh, 67, believes Manchester United manager Sir Alex Ferguson would have sold Tevez after the incident in Germany.
Some have compared the situation to City's situation in 1972 when Marsh's arrival preceded the club slipping from four points clear to fourth by the end of the season.
"The comparison is different," Marsh said. "Carlos Tevez has played for City before. I came in from cold.
"My debut was 40 years ago this Sunday. The game was against Chelsea and we won 1-0.
"If he plays tonight and City win 1-0, I will start believing I am a jinx."
Former Manchester United manager Tommy Docherty believes that City's fans could turn against Tevez if he fails to rediscover his form quickly.
"If he doesn't do the business, he could get booed of the park. If Tevez does prove himself, City's fans will be saying 'why didn't we bring him back earlier?'" he told BBC Radio Manchester's Red Wednesday programme.
Whatever Tevez's impact and the outcome of 30 April's derby, Docherty, who was at the Old Trafford helm between 1972 and 1977, believes that the title is destined for the red half of the city.
But the 82-year-old hopes Mancini is given at least another season by Manchester City's Abu Dhabi-based owners.
"I think United will win the title now, City have had their chance and they have thrown it away. United have kept at it and pounded them," he said.
"City are quite capable of winning the title the following year if Mancini retains his positions as manager. He should do because he is a good manager, he has just made a few mistakes which we all do, but he can learn from them."