Surprise package Apoel Nicosia ready for Real Madrid test
By Jimmy Smallwood
BBC Sport
Last updated on .From the section Football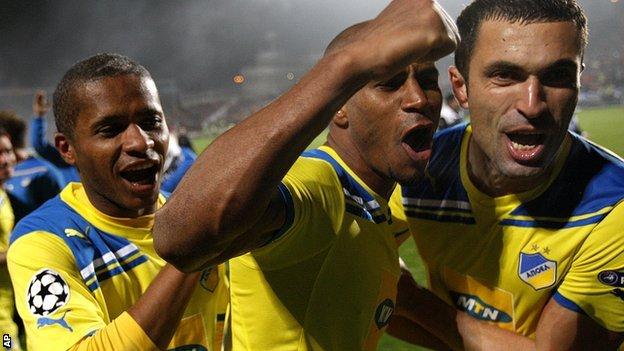 "A mountain had labour pains and a mouse was born," wrote Aesop, the Ancient Greek author famous for his fables.
After a remarkable adventure, Apoel are the unknown quantity in the final eight of Europe's premier cup competition.
On Tuesday, Real Madrid, who stand among the tallest mountains in world football, travel to the land of Aphrodite, goddess of love. It could prove an unromantic encounter for Cristiano Ronaldo and co.
Apoel's journey from a qualifier away in Albania in mid-July 2011 to a quarter-final second leg at the Bernabeu is a remarkable one.
This is a side with a Serbian manager unheralded outside of Cyprus, a star striker who cost a club record £850,000 and a club budget of under £8.5m. That is not the money for transfers or the cost of maintaining facilities, but the cash available to cover every single operating cost.
There are Premier League footballers in England paid more in 10 months than Apoel make in a year.
Having been drawn in Group G alongside Porto, Zenit St Petersburg and Shakhtar Donetsk - all sides who have won the Uefa Cup/Europa League within the last five years - Apoel were many people's favourites to claim the wooden spoon, as they did during their last Champions League adventure in 2009.
Yet the 'Thrillos' or 'Legends', as their home support calls them, lost just one fixture and qualified for the last 16 by topping the group.
Olympique Lyonnais then came and went, knocked out in a thrilling penalty shoot-out in Nicosia after a 1-0 home win secured a 1-1 aggregate draw.
How have this team, and their 49-year-old coach Ivan Jovanovic, achieved the seemingly impossible?
"A lot of this season's success can be put down to very good tactical organisation, hard work on the training ground and belief," Cyprus football reporter Nassos Stylianou told BBC Sport.
"Look at the penalty shootout in the game against Lyon - the goalkeeper before the game had prepared for every single penalty taker and he dived correctly four out of five times.
"They can also be extremely good going forward. In the five games that they needed to qualify from the group stages, they had the fewest shots per the number of goals scored. They were the most effective goal-scoring side in the competition."
A strict counter-attacking style has been implemented by Jovanovic, who likes his team to soak up attacking pressure and make the Legends' chances count. Apoel topped Group G with a zero goal difference. In the away leg against Lyon, Apoel had just 36% of possession and one attempt at goal, in the 89th minute.
Yet for Apoel superfan Constantinos Constantinou, these stats and facts matter little.
"It is an amazing season, the best in our history. It's the season that we have been dreaming about all our lives," he said.
"It's an extraordinary feeling, completely unique. I hope it will not end.
"I've followed Apoel for 25 years and we've had some very bad, embarrassing moments in our history. Now the last three years everything has changed."
Credit should go to Jovanovic, as much for the unique role he has created for himself at Apoel as for his tactical nous. In a Cypriot footballing culture where boardrooms and directors of football dictate the shape and style of teams and the players bought and sold, the Serb seems in complete command.
"Ivan Jovanovic is our guy," says Constantinou. "Since he arrived, he's put Apoel into a different galaxy.
"He is a very calm man. He transfers his calm to the players and also to the fans. He is very trusted and we believe that with him as our coach we can do anything."
Can that belief translate into an unlikely success against Real Madrid?
Real's star quality aside, Apoel have the additional disadvantage of playing the second leg in the Spanish capital, and Stylianou is realistic about the Cypriots' chances.
"Apoel will fight and defend, and will really try not to concede at home," he said. "In Nicosia anything can happen, but I think Apoel will have serious trouble in Madrid.
"Their strategy is built towards soaking up pressure, and I think Real Madrid just have way too much of an attacking ability."
Yet much-travelled supporter Constantinou remains undaunted.
"Real Madrid should expect to have a very difficult night in Nicosia. We are not afraid of them."
"The bookmakers are giving us only a 5% chance of winning. That is enough for us. I can live with that.
"In Nicosia they will not beat us. We don't have a huge stadium. Our ground can hold up to 23,000. It's small, and the seats are very close to the pitch. The power that the fans carry with them and our passion is transferred to our players and our opponents have a hard time.
"It will be difficult for them. Bet on it."