Derby County captain Shaun Barker out for 12 months
Last updated on .From the section Football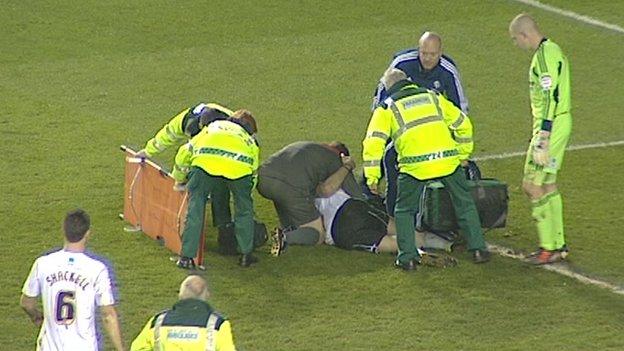 Derby County manager Nigel Clough expects captain Shaun Barker to be out for a year with a knee injury, but is confident it is not career threatening.
Boss Nigel Clough told BBC Radio Derby: "He has a target of 12 months.
"The good thing is the best guy in the country says he can repair it and Shaun can play on at this level."
Barker was hurt making a clearance in the closing stages of the game at Pride Park and needed six minutes of treatment before being taken off on a stretcher.
It is also feared the centre-back ruptured posterior cruciate ligaments, but that will not be known until he has surgery next week.
However, the injury is not connected to the problem that forced him to miss the start of the season following surgery in the summer.
Clough added: "It could have been worse, an injury like that.
"If he can get back on the pitch anytime next season, that's his aim, then that will be a bonus.
"Twelve months is a long time but Shaun's character will get him through. Because he is so strong, already he is starting to get his head around it.
"He has a lot of work to do but he has done it once so he knows what to expect and that helps."