Confidence the key to Zidan form, says Mainz coach
By Piers Edwards
BBC Sport
Last updated on .From the section Football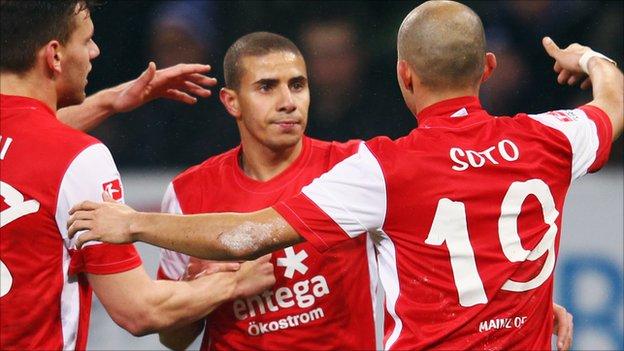 Egyptian striker Mohamed Zidan may not have continued his hot scoring streak at the weekend, but Mainz 05 manager Thomas Tuchel is likely to have cut him some slack.
For the 30-year-old had already created history for the Bundesliga side this season, when scoring in each of his first six games for his 'new' club following the end of the winter break.
"He has made more of an impact that we could have imagined," a delighted Tuchel told BBC Sport before Zidan finally fired a blank in Saturday's 2-1 loss at Augsburg.
The Mainz coach has made no secret of his desire to pursue an option to buy Zidan, with the Pharaoh's current deal expiring at the end of the season for a team currently lying 11th in the table.
The two-time Africa Cup of Nations winner was the only player to come into the club during January's transfer window, with the club's sole target only arriving at the very last minute from Borussia Dortmund.
"We made this decision because our manager knew him very well - from former times here - and said he would be a major key to our success, because of his character, ability to score and to feel happy at this club," said Tuchel.
His ability to score has certainly shone through during what is his third separate spell at Mainz - first representing the club in 2006, when on loan from Werder Bremen, before joining on a permanent basis a year later.
Moves to Hamburg and Dortmund followed but even though he won a league winner's medal last season with the latter, a lack of playing time prompted Zidan's move.
But what has prompted his turnaround in fortunes as his six goals from seven Mainz games have equalled a tally that took him 39 Dortmund games to complete?
"When we met the first time, he said the only club he would join in the Bundesliga is Mainz because he knows the club, all the people, the officials and he would feel very confident here," Tuchel continues.
"He needs that confidence to be important for a team and is such an emotional player that you can easily imagine how important it is for him to be in the starting line-up."
Zidan's emotions are a subject that often crop up when the Mainz coach is discussing his Egyptian star, who earned himself a hefty fine when wildly celebrating a goal in the 4-0 demolition of rivals Kaiserslautern.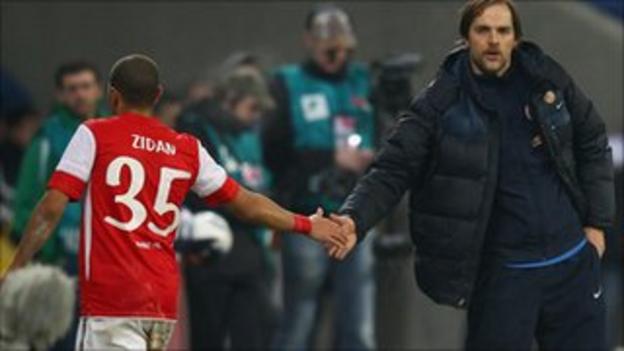 Ironically, the Pharaoh says he has matured since becoming a father in 2010 but Tuchel laughs as he says that all things are relative for a man he calls friendly and open-minded.
"People say that he is a bit calmer, but I have to say that for me, as his coach, it is enough how he acts right now and how many jokes he makes," says the 38-year-old.
"Mo feels that a new step in his life has arrived - being back in Mainz with his little son and his wife - but when Mo says he becomes calmer, it is still much less calm than others."
While beneficial to be a popular character off the pitch, it is on it where the fans want to see his best qualities - and Tuchel does not lack for superlatives as he describes the Egyptian hotshot's all-round abilities.
"He has extraordinary quality to win one-on-ones offensively or put players in great positions to score, or score himself, with his first touch in the box - extraordinary quality that barely changes our style of play."
Tuchel actually credits Zidan with having improved the whole level of the Mainz side, not just because of his playing impact but also the extra percentage in the self-confidence that he has given the group.
However, the Pharoah himself is calm about his recent feats.
"I am happy about (my goals) but generally, it does not matter who scores as long it benefits the team," the Egyptian has said of his scoring streak.
In recent days, he has asked the Mainz press office to reject all interview requests following a glut of interest in his thoughts, not just on his bright Mainz start but also on last month's stadium tragedy in Egypt.
Zidan spent his teenage years at al-Masry, the club who hosted the game against Al Ahly where 74 fans died, and was born in Port Said, the city where the tragedy took place.
Zidan's career took off after leaving Egypt for Denmark, from where he moved in 2005 to the Bundesliga, where his stock has never been higher.