Bryan Robson: Sir Alex Ferguson takes no nonsense
By Sam Sheringham
BBC Sport
Last updated on .From the section Football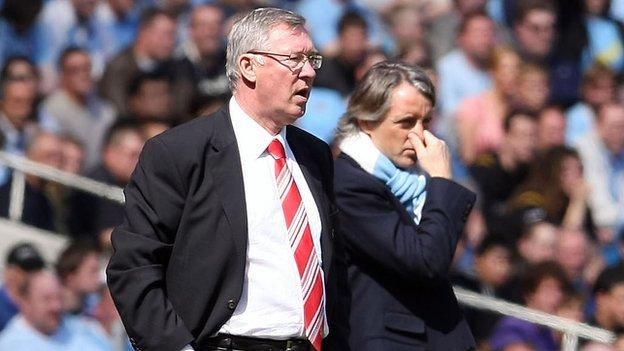 Manchester United great Bryan Robson says Sir Alex Ferguson's zero-tolerance approach to unruly players has given his club the edge over Manchester City in the Premier League title race.
According to Robson, City strikers Carlos Tevez and Mario Balotelli have been allowed to disrupt their team's challenge in a way that Ferguson would never have allowed.
"The Tevez saga, stories of Balotelli's nights outs, Ferguson doesn't allow it to happen in his club," said Robson. "He does man-management really well. That could be the biggest difference."
City are one point behind leaders United with nine games of the season remaining.
Roberto Mancini's side were five points clear earlier in the season but remain in contention after coming from 1-0 down to beat Chelsea 2-1 on Wednesday.
Tevez played in that game, returning to the City team for the first time in six months following a major falling-out with Mancini.
As for fellow striker Balotelli, another controversial figure at City, he was fined a week's wages earlier in March for breaking a club curfew for the second time this season.
Robson contrasts Mancini's handling of the pair with Ferguson's hardline approach towards Wayne Rooney, who was fined and dropped after under-performing in training following a night out.
Although United then lost at home to bottom-of-the-league Blackburn, Robson says Ferguson sent out an important message to the rest of the squad by leaving out one of his most influential players.
"You look at certain managers," said Robson, speaking ahead of the Soccerex European Forum to be held in Manchester next week. "And you wonder, would they have left Rooney out?
"Ferguson had millions of injuries for that game - he was fielding a depleted team - but he still decided to leave Wayne out.
"The boss has shown that it doesn't matter how good you are, you are not going to get away with it."
The episode led to speculation that Rooney would be sold by United, but Robson, a club ambassador, insists the relationship between manager and player is in good health.
"Wayne is a strong character, which the manager has always liked," said Robson, who helped United win the Premier League in 1993 and 1994 to mark the end of an illustrious 13 years at the club.
"He is never afraid to get strong characters in his dressing room. If a player wants to stand up and have his say, the manager will always allow you to do that. But, at the end of the day, it will be his decision."
Robson also said stories of divisions in the City camp would have boosted the United players.
"You like it because, in a dressing room, you want a bond," he said. "I know for a fact that, as a player, the better you get on with your team-mates, the better you will do for each other on a match day."
Although convinced the title is United's to lose, Robson is not ruling out City and believes the derby at Etihad Stadium on 30 April will have a major impact on the outcome.
Even if City win, however, Robson says the club's immense wealth will dilute Mancini's achievement in many people's eyes.
"The Man City job is a no-win situation," he said. "If Roberto Mancini wins the league this year, everyone will say he had £300m to spend on players and their set-up is unbelievable.
"If he fails people will say 'How can you fail with that type of money?'"